Big Win Cat Slot Review
8 min
|
Big Win Cat Information
| | |
| --- | --- |
| ⚡️ Slot Name | Big Win Cat |
| ⚙️ Software Provider | Play'N GO |
| 🤩 RTP | 96.15% |
| 🎡 Paylines | 5 |
| 🎰 Reels | 3 |
| 💰 Min Bet | C$0.05 |
| 💸 Max Bet | C$100 |
| 🔴 Slot Themes | Oriental/Asian, Animals |
---
Canadian Casinos to Play Big Win Cat for Real Money
Best Big Win Cat Bonuses
Big Win Cat Slot Review
All gamblers are invited inside an Asian novelty shop by Play N' Go. It is common for Asian-style casino machines to display a Maneki-Neko, a stylized image of a cat that stands for a fortunate charm. It is widely held in Asian culture that the Cat will bring its owner success and prosperity. Because its primary function is to increase the chances of significant wins for spinners, the Cat found in this novelty slot will offer its players an abundance of good fortune.
Even though the Big Win Cat slot machine does not give free spins, the 2017 edition included two extra features that are extremely rewarding: a "Wheel of Multipliers" and a "Respin of Luck." Both of these bonuses may be found in the game.
The slot machine has three reels, three rows, and five fixed paylines; the minimum bet for a single spin is $0.05. The most beneficial aspect of the Play N' Go title is that all symbols have the propensity to land in stacks, resulting in a high frequency of winning combinations. Get on the roll with the novelty slot to win up to 800 times your original wager!
Theme, Graphics & Sounds
Play'n GO's talented game designers have created a beautiful little game that focuses mainly on the good fortune that may be found in the East. The game's three reels, which are arranged in a three-row layout, are presented against the backdrop of an exquisitely crafted Asian novelty shop that is stocked with luminous Chinese lanterns, Ming vases, and other items with an eastern-themed motif.
The airways are filled with traditional music from eastern cultures, which is an excellent companion to the visual environment. The beautiful red and gold reels of the slot machine are filled with intricately painted symbols, each representing prosperity and good fortune to a certain extent.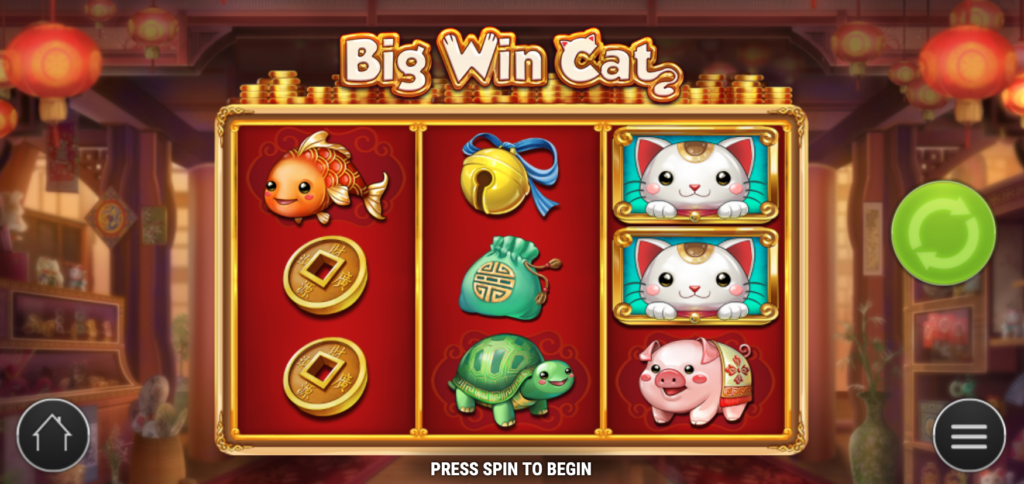 Bonus Features
The "Respins of Luck" feature and the "Wheel of Multipliers" feature are the two bonus games that Play'n GO has chosen to include since they are simple yet effective. The Wild symbol of the fortunate Cat is in the epicenter of the action, and it bestows good fortune on players who complete pay lines to receive wins.
"Respins of Luck"
When two reels stack with identical symbols, including Wild symbols, the "Respins of luck" feature is triggered. Wild symbols do not count toward the stacking requirement. While the reels with matching symbols stay in their current positions, the third reel will spin again to give a lucky player an additional opportunity to complete a winning pay line.
"Wheel of Multipliers"
The Wheel of Multipliers bonus round will be activated for players if they are fortunate enough to land matching symbols on all nine blocks of the slot machine's reels. During this bonus round, players can "ride their good fortune" and increase the value of their wins by a factor of up to ten.
If you were to land the fortunate cat symbol on all nine places of the reels, then activate a 10x win multiplier on the Wheel of Multipliers, then your good fortune might bring you to a massive win of $80,000 if you were to bet the maximum amount possible.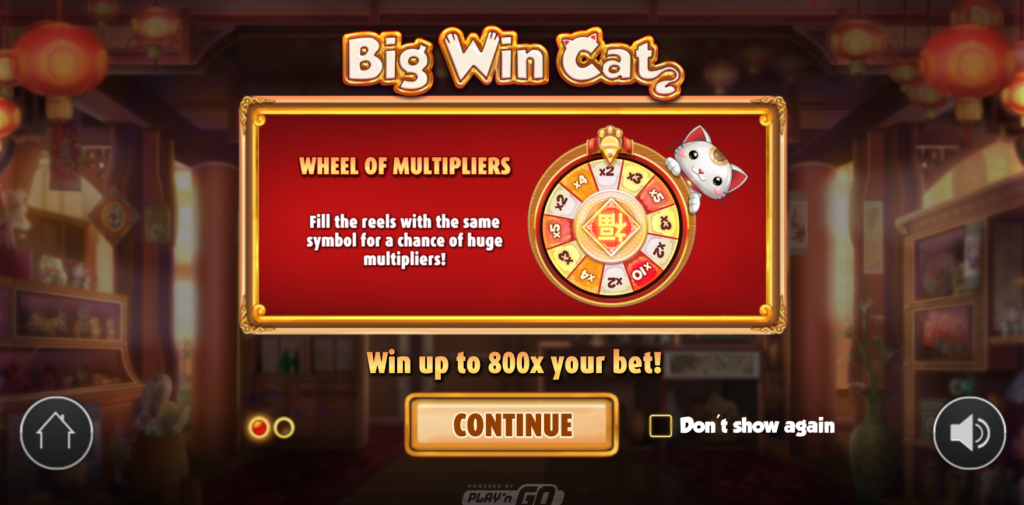 Game Symbols
The symbol with the most fantastic payout in the game is the fortunate Cat, followed by the character with the fish, the character with the pig, and the symbol with the turtle.
The lower-paying signs in the game include:
A hand-held fan
A gold token with Chinese characters engraved on it
A Chinese rattle
A money purse
A bell
The emblem of the fortunate Cat is not only the sign with the highest payout, but it is also the Wild symbol, which means it may stand in for any of the other characters in the game.
Bonus Rounds & Free Spins
Free spins and bonus features are two things that slot players who are serious about their hobby adore slots more than anything else. These improve your odds of winning and provide new dimensions of excitement to the gameplay, which Play'n GO is quite good at recognizing and capitalizing on in their games.
The software developer is well-known among those who enjoy playing slot machines because its games contain many features that provide additional value to a player.
In the slot machine game "Big Win Cat," the fortunate Cat serves as the Wild symbol for the game. In addition to having an additional surprise up its sleeve, the Wild symbol is the one that offers the most lucrative payouts when three of a type appear on any one of the game's paylines. Your odds of winning are significantly improved due to its ability to stand in for any other icons that may appear on the reels.
Stacks of symbols are another factor that contributes to the generation of enticing monetary awards. A helpful respin tool is included in the game if you need even more aid than what is already provided. Suppose you spin two reels with matching symbols or play one reel with stacked symbols plus one of the Wild symbols. The game will offer you a free respin. It means it may reward you with a decent cash win.
Another thrilling bonus is triggered once you spin nine matching symbols across all three reels. This feature is triggered anytime you win. This will activate the "Wheel of Multipliers," which may provide anywhere from a 2x multiplier up to a very lucrative 10x multiplier, as well as a possible return of up to 800 times your original wager.
Paytables & Winning Combinations
There are five paylines, and the number of coins that may be played on each payline can range anywhere from 0.05 to 100 coins. A winning combination on a slot machine is any payline with three symbols that match one another. The slot machine offers a fixed jackpot that may be worth up to 800 times your initial wager, and the highest possible amount that can be put is $100. (800,000 coins).
The Wild symbol can be used in place of the game's classic characters to assist complete winning combos. In addition, the "Respin of Luck" feature awards you with a free re-spin whenever it is activated. Once the same symbol has taken up all the reel slots, the "Big Win Cat" wheel will begin to spin, allowing you to double any wins by a factor of up to ten. Although there is no scatter symbol, this does not impact the total rating or the game's experience.
RTP & Volatility
Play'n GO has earned a stellar reputation for developing forward-thinking online slot games that provide their players with an outstanding RTP. With a Return to Player percentage (RTP) of 96.15%, "Big Win Cat" is not an anomaly. Do you have a good understanding of what the RTP is? It's normal for new players, in particular, to have trouble grasping the word, but there's no need to worry about it. We are here to assist you and provide explanations so that you can spin the reels with complete assurance.
Return to player is an abbreviation for "return on investment," which refers to the money given back to players who engage in a slot game. In the instance of "Big Win Cat," the percentage of 96.15% reveals that a player receives a return of 96.15 in the form of prizes for every 100 wagered when spinning the game's reels.
Do not let yourself be fooled into assuming that you would receive this amount of return, even if this is the result you may anticipate achieving if you played the game for a sufficiently extended period. Even if you had the appropriate amounts of money accessible, it is not realistic to attempt to do so, given the possibility that it will take thousands upon thousands of spins to accomplish this goal.
Each slot game's return to player percentage (RTP) is determined using data collected from hundreds of players over about one month. The return on investment (RTP) of 96% is a guaranteed return; nevertheless, this percentage is determined by comparing the entire amount spent on the game to the total amount paid out to players.
Some of these players may have received big prize payouts, while others may not have even recovered the money they first staked. We usually recommend turning the RTP number for an online slot game on its head to highlight the game's house edge, and in the instance of "Big Win Cat," this works out to be four percent.
How to Win
Since the slot is a simple and regulated game controlled by technology that generates random numbers, it is impossible to directly affect a spin's outcome. However, this does not imply that players cannot acquire an advantage over other punters when they spin the reels, and we will demonstrate how this may be done.
Our most helpful advice is to ensure you have a good handle on your money. In an ideal scenario, you should devise a plan to guarantee adequate finances to tide you over any lean times that may occur when the game isn't giving you the cash prizes you so much desire. When you start getting wins in a row, you should consider raising your bet so that you may get the most out of your winning streak.
Besides, we strongly urge that you play as much of "Big Win Cat" as you can for free in demo mode as much as you can, since this will provide you with the finest possible insight into the game's mechanics. When you play for actual cash, using this information to guide your betting strategy will be helpful.
How to Play for Free
You are not required to join, make a deposit, or provide any personal information to participate in as many rounds of "Big Win Cat" as you like on our website. Usually, a respected casino will provide you with a virtual balance while playing, making it seem the same as if you were wagering real money without any accompanying dangers!
There is not the slightest requirement for you to play at an online casino, where you may make deposits and gamble with real money to get the most out of your newly acquired gaming expertise; nevertheless, if you want, you are under no duty to do so.
You could decide that it is more enjoyable to stay on a casino website and test out some of the other intriguing and immersive Play n Go slots available, or you might decide that it is more enjoyable to test out games developed by different software providers. There are hundreds available for you to select from here. Because they cover a wide range of topics, we are confident that we can find something that will pique your interest.
How to Play for Real Money
A player is required to set up the game before they can begin playing the Big Win Cat Slot.
Next, the guide looks as follows:
The first thing to do in the game is select the coin size by utilizing the pair of control buttons labeled "+" and "-" on the panel.
After adjusting the wager level for the current round, the only thing left for a player is to click the green button labeled "Spin" to make the reels spin.
How to Play from Mobile
Developers such as Play'n Go have fast adapted their games to be compatible with mobile devices. It's excellent since an increasing number of avid slot punters play their favorite games on their mobile phones and tablets rather than on desktop computers.
You will discover that you can play "Big Win Cat" on your mobile devices, such as a smartphone or tablet, and yet have the same fantastic experience you would anticipate while playing on a desktop or laptop computer.
Tips & Hints
To win the game, a player at the "Big Win Cat" slot must align three matching symbols along an active payline. Only the winning combination that results in the most fantastic payout over an entire payline will be compensated.
Here are some other suggestions that might help you achieve success:
The "Respin of Luck" feature is activated if a single symbol fills all of the cells in two rows during a spin that does not result in a win. While the respin is conducted, any reels with identical icons will stay locked.
To activate the Wheel of Multipliers function, you must fill all the cells with similar icons in addition to Wilds. Thus, your victory will be increased by up to ten times.
---