Raging Rex Slot Review
7 min
|
Raging Rex Information
| | |
| --- | --- |
| ⚡️ Slot Name | Raging Rex |
| ⚙️ Software Provider | Play'N GO |
| 🤩 RTP | 96.34% |
| 🎡 Paylines | 4096 |
| 🎰 Reels | 6 |
| 💰 Min Bet | C$0.10 |
| 💸 Max Bet | C$20 |
| 🔴 Slot Themes | Action/Adventure, Dinosaurs |
---
Canadian Casinos to Play Raging Rex for Real Money
Best Raging Rex Bonuses
Raging Rex Slot Review
The most recent release from Play'n Go will carry you over to a time long ago when dinosaurs were the dominant species on the planet. Believe us when we say that the meanest of them all, the legendary T-Rex, also known as the Raging Rex, would undoubtedly terrify you. Still, it means no harm since it will help you land substantial payouts and activate the Rampage bonus with walking Wild reels and up to 5 re-spins.
The "Raging Spins" feature, which includes infinite freebies, Wild reels, and multiplier Wilds, is the primary draw of the video slot game Raging Rex, which has five reels and 4,096 different chances to win. Players will enjoy the benefits of Wild reels on each spin or more Wilds with multipliers, depending on which choice they select in the Raging Spins feature ("Wild Hunt" or "Primal Rage") – players may pick between these two possibilities on their own.
Theme, Graphics & Sounds
The Raging Rex slot machine, which has a prehistoric or dinosaur-related theme, will transport you to a time before the existence of humans when mighty dinosaurs controlled the earth. The game's visuals are stunning, bringing to mind the classic Jurassic Park.
The scene takes place in a thick forest, and in the background, you can hear dinosaurs screaming, which adds to the intensity and viciousness of these prehistoric monsters. There are six fossilized insects on the reels, some of which include scorpions and spiders.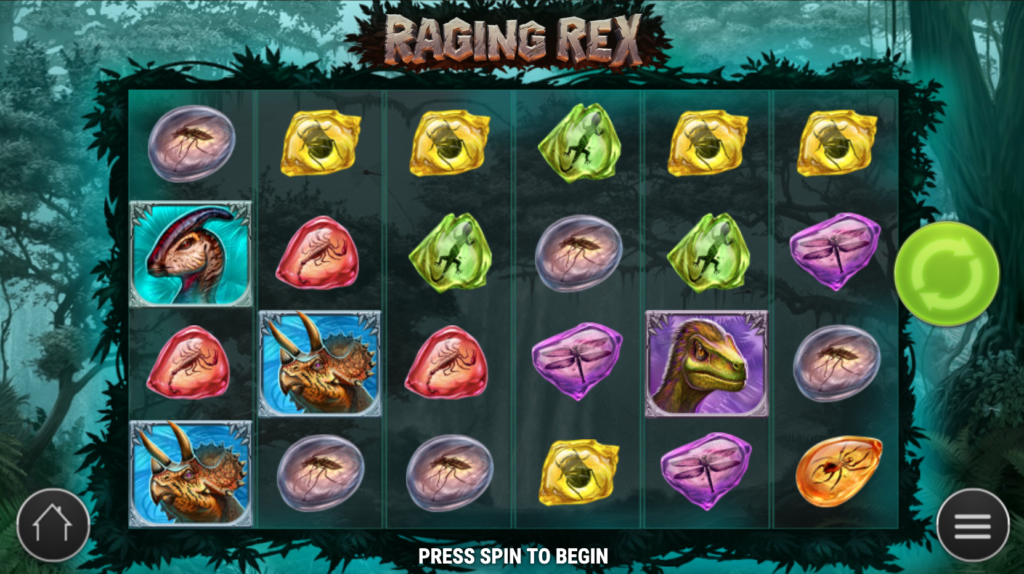 Bonus Features
The Raging Rex slot game has a total of four different bonus features. Its primary focus is on the Raging Spins feature, which allows players to play an endless number of free spins and offers stacked T-Rex Wilds that provide free re-spins. Next, you will have the option during each free spin to utilize T-Rex Wild reels or Wild multipliers, which may reach 243x.
If a stack of T-Rex Wild symbols appears on reels 2 to 6, the Rampage bonus round will activate in the base game. After the initial spin, the stack of Wilds will become sticky, and then they will move one at a time toward the first reel on each consecutive spin. It is in your best interest for the stacks of Wilds to appear on reel six first since this will grant you an additional five chances to spin the reels.
When playing Ragin Rex, your primary objective should be to activate the free spins mode. This is the portion of the game in which the player can win the most money. If there are three, four, five, or six Meteor Scatter symbols anywhere on the reels, the free spins game will be activated, and the player will receive eight, fifteen, twenty, or thirty free spins, accordingly. In addition, obtaining two or more Scatter symbols when playing the bonus game rewards additional spins, with the possibility of receiving an infinite number of free spins.
After activating the free spins, players are allowed to select either the "Wild Hunt" feature or the "Primal Rage" feature to play during their bonus round:
During the Wild Hunt feature, the stacked Wilds are taken away, and in their place, x2 or x3 multipliers are added to the Rex Wild symbols; these multipliers can add up to a total of x243 when combined. During the Primal Rage feature, stacks of Wilds appear on reels 2 to 6 during each spin and move to a new revolution with each spin.
Game Symbols
The low-value symbols, represented by six creatures fossilized in amber and including scorpions and spiders, are not an altogether surprising choice. The fact that some of the most well-known dinosaurs in history are depicted on the covers of the premiums will not come as much of a surprise to you.
These dinosaurs include Triceratops, Parasaurolophus, Dilophosaurus, and Velociraptor. The latter is the most valuable of all symbols because it will award you 7.5 times your original wager for a combination of five of a kind. The T-Rex is at the top of the food chain; naturally, it is the Wild symbol, and it may thus substitute for any other symbol but the Scatter.
Bonus Rounds & Free Spins
The free spins bonus is not easy to win, but it has the potential to bring in a significant amount of cash. You will receive a minimum of 8 and a maximum of 30 free spins when you trigger the free spins bonus with three or more meteors. A reward of five times your original wager is awarded to you regardless.
You have the chance to win one of two different kinds of free spins bonuses:
Wild Hunt: The Wild symbols can award an additional multiplier of up to 243 times the bet.
Primal Rage: The reels always include at least one stacked Wild.
BREAKING! It is possible to win an endless number of additional free spins.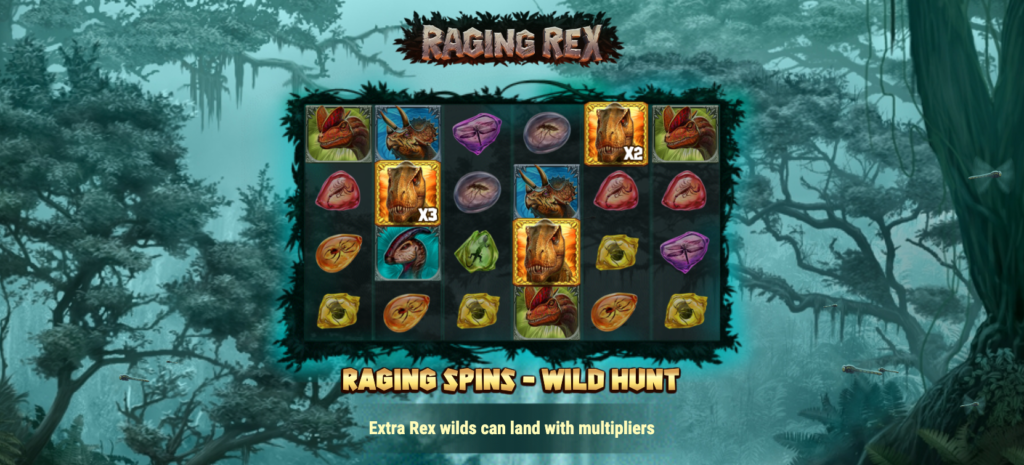 Paytables & Winning Combinations
The fearsome T-Rex is the most imposing of the five enormous dinosaurs that make up the premium emblems. The names of the other dinosaurs are not immediately brought to mind by any of us. However, you can tell us they no longer exist in this world. Our good buddy Raging Rex acts as a Wild and may take the place of any other symbol, except for the Scatters. In addition, the Wilds serve a few other vital purposes, but we will get into that later.
You will receive a payout between 6 and 7.50 times your stake amount if you get five of a kind with the remaining four dinosaurs. Six different fossil creatures make up the low-paying symbols, and getting five of a type will earn you between two and three times your initial wager. Both the regular game symbols and the Wilds have the potential to make several appearances on the reels, which can result in substantial prizes.
RTP & Volatility
Raging Rex has a return to player percentage (RTP) of 96.34 percent. This indicates that players will win $96.34 in rewards for every $100 they stake in the game. However, remember that this is just a theoretical average calculated based on thousands of spins.
Besides, the Raging Rex slot machine has a high level of volatility. This indicates that players can win significant rewards, but these opportunities will present themselves much less frequently than they would on low- or medium-variance slot machines.
How to Win
While spinning the reels, you will be surrounded by enormous mosquitoes and dragonflies, but you don't need to be afraid of them since they are harmless. The setting for the 2019 release is an old forest once home to prehistoric animals that have now been extinct. The Meteor acts as the Scatter and activates the Raging Spins bonus round. The Raging Rex acts as the Wild and may replace any symbol other than the Meteor.
Even though the reels are set in an ancient period, the game's regulations are relatively up to date. The Play'n Go game has a total of 4,096 different possibilities for players to win, spread over its five reels and four rows. You will start receiving rewards as soon as you land at least three matching symbols on neighboring reels, beginning with the revolution to the left of the one you currently see. It's as easy as that!
The control panel is carved in stone and provides all of the standard choices, such as Bet, Paytables, and Autoplay, with an option for up to 500 automated spins and, of course, the Spin button. The range of possible wagers is very typical, extending from $0.20 to $100 for each spin.
How to Play for Free
The online gambling world could look a little scary if you've never played slots before. But don't worry because we've got you covered with our Raging Rex slot machine guide that walks you through each stage of the game:
Step 1: Become familiar with the basic terminology of the slot. It is in your best interest to become familiar with the fundamentals of slot machine terminology before you begin playing.
The second step is to complete your homework on a Raging Rex slot machine. Examine the symbols, reels, paylines, jackpots, bonus rounds, RTP (the return to player percentage), and minimum and maximum playing amount the slot machine offers.
Step 3: Pick a reputable online casino to play the demo. The next step is to look for a reputable online casino to play at for free. Even if there are a significant number of them, you still need to exercise caution because many are harmful.
Step 4: Start warming up, and play the game's demo version. Even if you sail through the first three steps, it's not a good idea to start playing the Raging Rex slot machine for real money until you become acclimated to how it works until you've had some practice. To prepare yourself, you should thus click the "Demo" symbol that has been put on the slot.
How to Play for Real Money
Discover how to arrange the bets first, then be ready to learn some unique tricks from some of the most eccentric monarchs in the world. You can raise or lower your wagers using the Quick Betting Panel on the slot machine.
The "Autoplay" function continuously spins the reels for the allotted number of times without taking any breaks in between. After you have decided how much you want to wager, you may set the reels in action by clicking the "Spin" button.
How to Play from Mobile
Like other Play n Go slots, Raging Rex may be played on mobile devices like tablets and smartphones, as well as on personal computers. Because HTML5 powers the game, it will run right within your web browser, and you will not need to download anything.
Tips & Hints
Here are hints offered by pro-level punters who have become skilled at Raging Rex. The goal of placing high-denomination bets is to increase the money you might win. Spins with a higher denomination might pay out more than those with a lower denomination. If you have the financial means to place a single significant stake, doing so may decrease your likelihood of having a winning spin; nevertheless, if you are fortunate enough to win, the payout will be much more substantial.
This is because slots with larger denominations will pay out significantly more. If you fail, you could burn through your bankroll a bit more rapidly, so if you want to play for a more extended period, choosing lesser denominations will give you more opportunities to spin the reels.
"Try Not to Contemplate Any Payouts That Are "Due"
There is no method to the slots' madness. Random Number Generators are what power online slot machines (RNG). This indicates that there is no such thing as a streak of either warmth or coolness in the game. Always remember that the odds will be reset after each spin; doing so is essential to playing slot machines and may even be the most effective strategy.
Because you haven't won much in the previous rounds, you shouldn't automatically assume that a significant victory is coming to you. At land-based casinos, there are always people hanging about, and some players are scared of them.
Even while their strategy isn't 100% surefire or guaranteed to succeed, it nonetheless has the potential to make you feel uneasy. Players participating in activities at an online casino do not have to be concerned about this matter.
---