Gemix Slot
7 min
|
Gemix Slot Information
| | |
| --- | --- |
| ⚡️ Slot Name | Gemix |
| ⚙️ Software Provider | Play N Go |
| 🤩 RTP | 96.75% |
| 🎡 Paylines | 7 |
| 🎰 Reels | 7 |
| 💰 Min Bet | $0.50 |
| 💸 Max Bet | $10 |
| 🔴 Slot Themes | Fantasy, Jewels, Magic |
---
Canadian Casinos to Play Gemix for Real Money
Best Gemix Bonuses
Gemix Slot Review
The sparkling gemstones abundant in Gemix are sure to lift your spirits, and the vibrant cascading reels can also bring you some pretty great winnings. You will quickly see why this slot machine by Play'n Go has such a large following in the gaming world as you play this game, which was released by the Tier-1 studio in December 2014 and has since gained a lot of popularity.
It comes with a 7×7 grid, and to win using the cluster pays engine, you need to land at least five similar symbols in a set. You may construct groups with up to and beyond 15 matching symbols for some large winnings in this game. You'll receive plenty of benefits from various additional features and reel modifiers exclusive to each of the three planets you can explore in the Gemix slot.
Theme, Graphics & Sounds
Players have access to a wealth of glittering gems in the Gemix slot, and each may be used to increase their chances of winning in a variety of different ways. Further, the developers are mindful of the significance of visual interpretation in online casino themes, which is precisely why the game has achieved such phenomenal success.
The gameplay typically receives the majority of attention, even though sound effects are considered unimportant. When you accumulate more prizes, the background music will speed up to a more upbeat tempo, which is one of the game's intriguing features. This gives the game a one-of-a-kind sense of excitement, and the combinations you may make can significantly raise your overall score.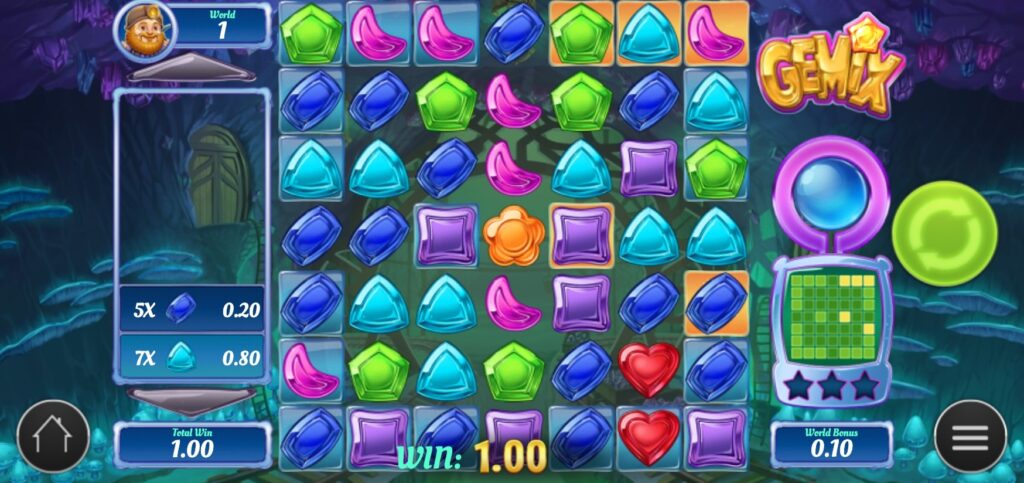 Bonus Features
There is no guarantee that you will win during the Gemix free spins, although this bonus is standard in Play'n GO slots. You will, however, get to use a fantastic Gemix feature called World Patterns. You can access one of three different worlds by completing a precise pattern on the screen.
Unlocking a particular planet will give you access to a collection of exclusive features and a one-of-a-kind wild. For instance, accessing the Miner's World will reveal ten wild symbols, each capable of substituting for another sign. You can earn lollipop wilds in The Princess' World, which can cover the entire screen during spins in which they do not contribute to a win.
Besides, the Wizard's World provides up to eight sticky wilds throughout your gameplay. During rounds with no winner, these sticky wilds might appear everywhere. In addition, they can take the place of other components already present on the grid to produce additional winning combinations.
Game Symbols
In Gemix, each of the game's symbols is a glittering gemstone of a different hue. Remember to win a cluster, the combo must include at least five characters. Your chances of winning the most money increase when you hit 15 or more matching symbols in a set, and the Star gemstone has the highest value on this paytable:
"Star" – pays 1,000x for 15+ in a cluster.
"Heart" – delivers 500 times its standard value for 15 or more in a bunch.
"Half Moon" – pays out at a rate of 200x for 15 or more in a cluster.
"Flower:" Clusters of 15 or more flowers are worth 100 times as much.
Green, purple, light blue & blue gemstones – Pays out 30 times, 15 times, ten times, and 7.5 times for 15 or more in a cluster.
Bonus Rounds & Free Spins
When you land a winning cluster, all the winning symbols burst, allowing different characters to fall from above. This happens whenever you win. This can result in a string of many consecutive wins, and if you are successful in removing 20 symbols in this manner, you will activate one of the following four Crystal Charge features:
"Nova Blast" — One bursting character burns down all nearby symbols
"Crystal Warp" causes every occurrence of a selected character to transform into a different (sometimes even more gainful) character.
"Light Beam" is a unique ability that allows one sign to shoot a beam at other characters, transforming them.
"Lightning Chain." Two symbols in the corner are connected by lightning, and any other characters struck by this lightning are changed into one of the two original symbols.
If you land a winning combination with at least 40 symbols, you'll have the opportunity to supercharge the "Crystal Charge" function. If this occurs, any winnings you earn from the feature will have a multiplier applied to them that is equal to three times the original amount.
On the Gemix slot machine, you can choose to play in one of three distinct worlds and advance to a higher world level by completing pattern challenges. You can see the winning patterns to the right of the reels, and there are specified spots on the game board where you may win. During losing spins, you will receive assistance from one of the following three characters, depending on the realm you are currently in:
In "Miner's World," you can obtain up to ten miner's light wilds.
A lollipop wild can potentially grow throughout the entire grid in "Princess' World."
"Wizard's World" grants you the opportunity to receive up to 8 sticky wilds from the spellbook.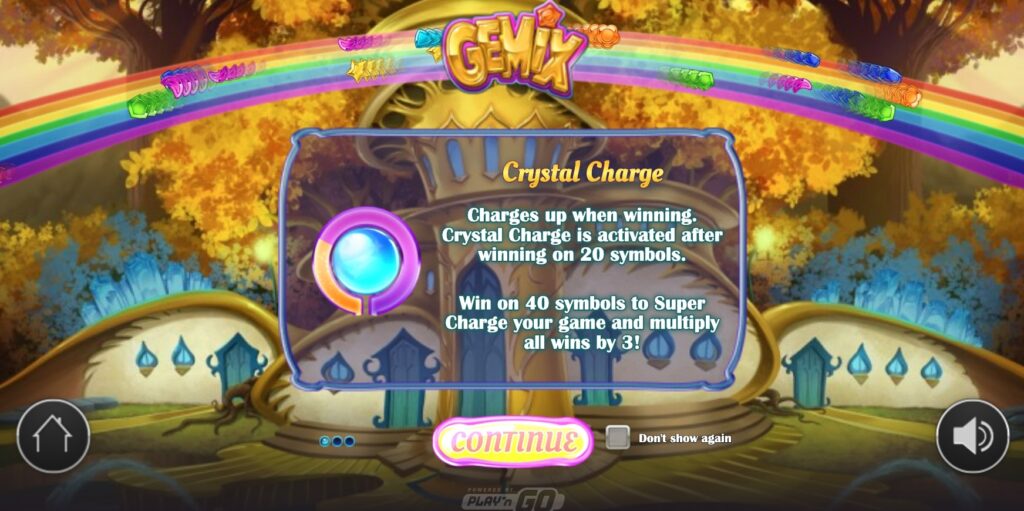 Paytables & Winning Combinations
When players start the game, they can learn more about the unique paylines and combo options available to them. In addition, there are three distinct levels in which a player can get Wilds. To advance in levels, you must first place a wager and then continue to roll the dice.
After all, a single magical being with a woman's appearance will bestow upon you more Wilds. In the last round, a wizard will arrive and give you additional challenges, each of which will have a unique special symbol.
RTP & Volatility
The return-to-player ratio in Gemix is 96 percent, which is excellent news for anyone who wants to try their hand at the game to win real money. Even while the payouts aren't as great as in some other slot games, this still assures that players have a positive and profitable experience overall.
In the same vein, people generally agree that this game possesses a level of volatility that falls somewhere in the middle. This is another way of expressing that victories occur reasonably regularly and can deliver prizes on the lower end of the spectrum.
Substantially higher winnings characterize highly volatile games, but these victories are far less often. To put it another way, Gemix has the potential to be one of the most beneficial Play'N Go slot games for players who wish to steer clear of high-risk slot games.
How to Win at Gemix
In Gemix, coming out on top is simple. To get a prize, you only need to form a cluster that contains five of the same kind of gems. The greater the number of diamonds you find, the greater your prizes will be. You do not need to make any further bets to increase your chances of winning after a victory because this increases your chances of winning.
Once a winning combination has been created, it will add the amount of the win to your total before exploding, at which point other symbols will begin to fall into position. Because of these additional symbols, there is a better chance that a winning cluster will be formed; if so, you will still be awarded further.
This method of winning is sometimes referred to as a "Cluster Pays" symbol, which can be found in lots of modern games, and this explanation does an excellent job of summing up how it operates. The formation of clusters of gems, which frequently result in wins, is a hallmark of this game. The reward increases proportionally with the size of the set.
How to Play for Free
Slot games at certain online casinos come with free spins, allowing you to test out the games without risking any money. Before you play for real money, you should take advantage of this opportunity to test out the game and figure out how you like to play slot machines.
You may give the slot machine a few spins without risking any money if you feel unsure about it or want to learn more about the extra features it offers. You will be able to get a sense of how the slot machine works and decide whether or not you like it. After you have finished testing it out, you can either begin playing for real money or move on to another slot if what you saw wasn't to your liking.
How to Play for Real Money
Just like any other type of game, slot machines are designed to be entertaining. Play within your boundaries, which is a fundamental piece of advice or method for playing slot machines, regardless of whether they are multiline. Your limits should be based on how much you can wager and lose.
It is not a good idea to keep playing in the hopes of making up for previous losses because this might result in an even more considerable loss. If you have some successful wins, you should give yourself a target, and after you attain that goal, you should call it a day.
How to Play from Mobile
Here are some helpful hints to guarantee you have the most enjoyable experience possible when playing Gemix from your mobile device.
We recommend playing in full-screen mode while playing the Gemix slot machine on your mobile device. In this manner, you will be able to view the crystal charge meter and your winning combo combinations simultaneously.
If you play Gemix on a mobile device and utilize autoplay, the game will consider this to be a "period of idleness" on the device. We strongly suggest modifying the settings for the time-out feature on your smartphone so that it does not automatically lock your screen.
During our analyses of the Gemix mobile slot, we discovered an additional feature: the mobile game can be played left-handed. The spin button will be relocated to the opposite side of the screen when you do this.
If you keep the advice mentioned earlier in mind, we are confident that you will enjoy a game that is already fantastic even more. Our analysis of the Gemix slot machine is now complete. We think you should check out some of the trusted casinos if you are interested in playing Gemix for free or real cash.
Tips & Hints
Because of its straightforward gameplay, many people consider Gemix one of the most enjoyable slot games 2022 offers. Nevertheless, it is crucial to ensure that you always use the appropriate technique. It should be no surprise that increasing your stake will result in more pay lines being activated with each spin.
Once the appropriate wager has been chosen, it is also a good idea for players to use the autoplay tool. This allows players to keep track of their profits and the number of gems still needed to activate the Crystal Charge feature. Playing can then take place manually if the total amount wagered has to be adjusted while the bonus round is active.
---
Other Popular Play'N GO Slots