Rise of Olympus Slot
8 min
|
Rise of Olympus Information
| | |
| --- | --- |
| ⚡️ Slot Name | Rise of Olympus |
| ⚙️ Software Provider | Play'N GO |
| 🤩 RTP | 96.5% |
| 🎡 Paylines | 5 |
| 🎰 Reels | 5 |
| 💰 Min Bet | C$0.20 |
| 💸 Max Bet | C$100 |
| 🔴 Slot Themes | Mythology, Ancient Greece, Gods |
---
Canadian Casinos to Play Rise of Olympus for Real Money
Best Rise of Olympus Bonuses
Rise of Olympus Slot Review
The Play' n GO's slot machine recounts the story of three brothers as its central theme. The "Cascades" and randomly triggered "Hand of God" extras are included in this 5-reel, 20-payline game. These extras can destroy and change symbols and add Wilds to the board.
They are all applicable during the "Wrath of Olympus" feature. Nevertheless, the Free Spins feature is the most important one. Here, the god's bonus is applied to every free spin, and the multiplier increases by one level with each victory, up to 20x. With a maximum win of 5,000 times the player's wager and a generous return to player percentage of 96.5%, it's not hard to guess how our Rise of Olympus review will turn out.
Theme, Graphics & Sounds
The online slot game is based on Greek mythology and tells the story of three brothers: Zeus, Poseidon, and Hades. Zeus is the deity of the sky, Poseidon is the god of the sea, and Hades is the god of the underworld. According to the legend, they had already triumphed over their father, Cronus, and were now competing for the throne. This game will determine who has the most intense sibling rivalry.
The images are of high quality, and an epic score is playing in the background. One of the three brothers is off to the side of the grid. The setting is distinct for each Greek god; Poseidon transports you to the ocean's depths, Zeus transports you to the summit of Mount Olympus, and Hades transports you to the netherworld.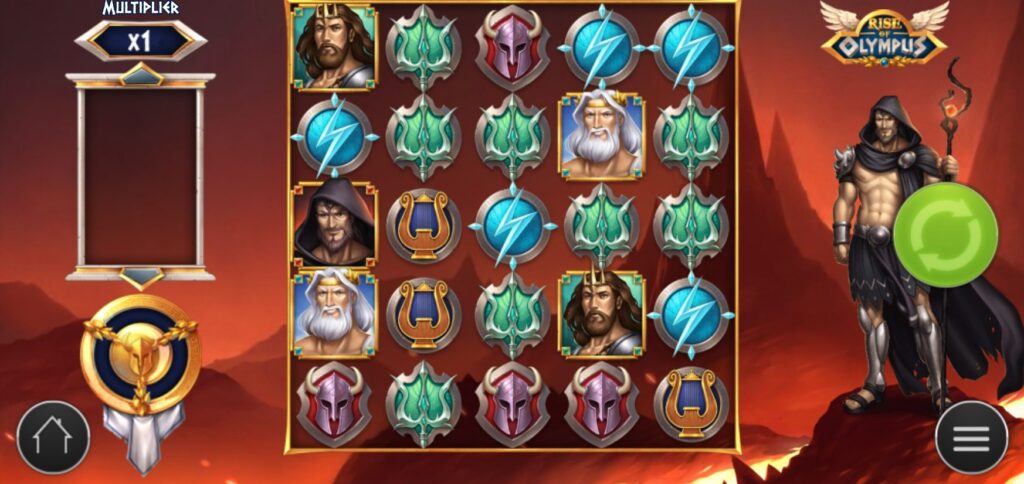 Bonus Features
The Rise of Olympus slot game has a total of four different bonuses. The "Cascades" include unpredictable "Hand of God" extras that have the potential to modify and destroy symbols in addition to adding Wilds to the board. The "Wrath of Olympus" add-on allows players to experience these heavenly abilities sequentially. A selected set will have added value with successful spins during the free spins, raising the multiplier to 20 times.
The board for Rise of Olympus is organized as a 5×5 grid, and symbols fall from above in a cascading fashion. You have won the game if you have lined up three identical symbols in a row, either vertically or horizontally. After that, winning symbols will be taken away, and the remaining characters will fall to the bottom of the screen to form new winning combinations.
A multiplier will rise with each consecutive win, and a Wild symbol will emerge in the center of the grid if you hit a winning combination of symbols.
The "Hand of God"
A feature known as the Hand of God feature is also included in the Rise of Olympus slot machine. This function is triggered at random. It is only activated when a player has a spin that does not result in a winning combination, and the extra feature that you will receive as a result of this depends on which of the three Greek gods is active on the right-hand side of the reels:
Zeus: Two different sets of symbols have been erased, and brand new characters will surface in their place.
Meanwhile, Poseidon will add one or two Wild symbols to the reels or grid.
The transformation of one set of symbols into another symbol is called Hades.
The "Vengeance of Olympus"
This function is activated if the meter that appears on the screen reaches its maximum level. You add to the meter whenever you complete winning combinations that contain any of the emblems of the Greek gods.
A victorious combo with five symbols fills up three parts of the meter, a win with four characters fills up two sections, and a win with three symbols fills up just one area. When the meter is complete, you are awarded one free spin, and then the three Hand of God features are played one after the other in order.
Game Symbols
In Rise of Olympus, the game's icons are based on Greek gods and mythology, and to win, you need to link at least three symbols of the same kind in a row, either horizontally or vertically:
The highest earning symbol is the Wild (Pegasus Gold Coin), which awards payouts of 50 times the total bet for 5 of a kind.
The highest earning symbols are the Wild (Pegasus Gold Coin) symbols. Thus, payouts are multiplied by 50 for getting five in a row.
Zeus is a premium symbol that awards a payout of 10 times the bet for five in a row.
Poseidon is a premium symbol that awards a payout of 10 times the average amount for five in a row.
Hades is a premium symbol that pays ten times its expected payout for five in a row.
A low-value sign that multiplies your bet by three is a harp. Another low-value symbol that multiplies your bet is a helmet. A low-value symbol that multiplies your bet by three is a trident. It is a low-value symbol that multiplies your bet by two only.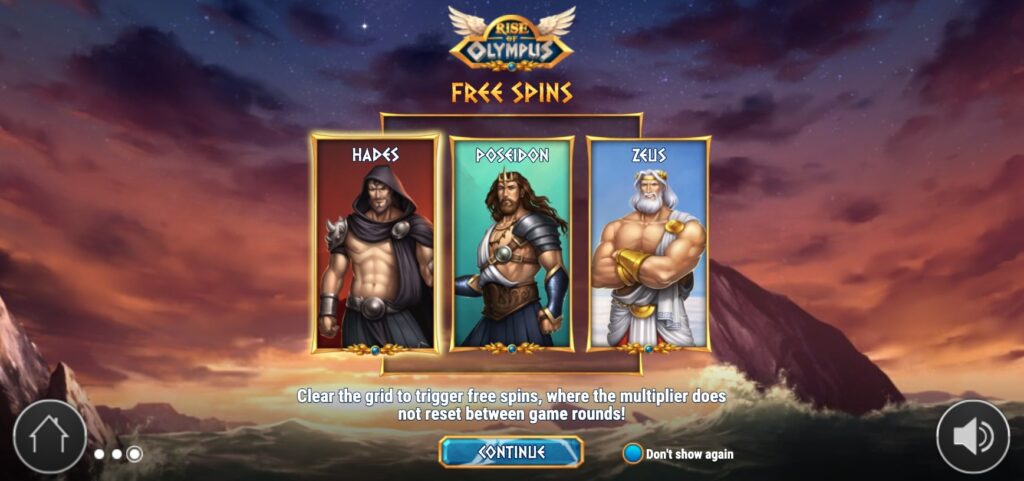 Bonus Rounds & Free Spins
The "Jackpot for Rise of Olympus" (Max Win)
Rise of Olympus does not have a progressive jackpot, yet the maximum win is a substantial 5000 times your initial wager. If you play the game with the highest stakes imaginable, this equals a mind-blowing ONE-MILLION DOLLARS.
You must first remove all symbols from the grid to trigger the Free Spins feature. After that, you will have an option between the following three gods:
Hades: 4 FS
Poseidon: 5 FS
Zeus: 8 FS
If you choose Poseidon, for example, 1 or 2 Wilds will be added to every non-winning free spin as part of the accompanying Hand of God features. This is the case regardless of whatever choice you go with. With each successive victory, the multiplier can reach a maximum of 20 times its original value.
Now, while participating in the bonus round, you may earn more free spins by filling up the meter displayed on the screen. You will receive four free spins courtesy of Hades and three free spins courtesy of Poseidon. Every time you win, Zeus will give you an additional two free spins as a prize.
You can repeat this process unlimited times, with a maximum of 20 free spins up for grabs. Finally, the reward you will receive is an immediate cash award equal to one hundred times your total wager if you are successful in clearing the grid totally while playing a free spin.
Paytables & Winning Combinations
To qualify for any prize, you must have at least three of the same symbol. Plus, adding a playing grid with dimensions of 5 by 5 in the 2018 edition has created extra opportunities for winning combinations.
Play'n GO took the gaming community by storm when they released a video slot that allows you to win big prizes by matching symbols on the reels in either a vertical or horizontal orientation. This improved the traditional pay lines and other winning methods used in earlier game versions.
The betting range is comprehensive and may accommodate many different types of players. You have the option of betting anywhere from $0.20 to $100.
The Greek gods will assist you in forming prize-winning combinations and will also be available on the reels as high-value symbols for you to use. The winged horse Pegasus serves as a Wild card that may stand in for any other character. The harp is the final of the symbols with a low value and comes in last place.
In most cases, each of the three gods will pay their share. However, pairing any two of the deity symbols will increase your chances of winning. With the assistance of the "Hand of God" feature, Zeus shatters two symbols to make room for new characters to arise. While this is happening, Poseidon will add two more Wilds to the reels, and Hades will transform one group of symbols on the reels into another set of characters.
RTP & Volatility
The Rise of Olympus slot machine has a grid size of five by five and contains 20 paylines. Winning combinations are created when three or more identical symbols appear in a row, either horizontally or vertically. These rows can be in any orientation. Additionally, the same symbol may be utilized in more than one victory.
Five different bets may be placed, and they are shown permanently below the grid. Each spin costs anywhere from 20 pence to one hundred pounds. You will notice arrows at either end, and you can use them to adjust your stake, following the situation effortlessly.
The Return to Player percentage of Rise of Olympus is 96.5%, which is significantly better than the industry standard of 96% and is greater than the RTP that Play'n GO slots typically provide, which is 96.2%. Check the RTP alternatives offered by a casino you are now playing at because the supplier provides five RTP options, each of which might have a return percentage as low as 84.5%.
From personal experience, we can tell you that you may expect a return rate of either 96.5 or 94.5 percent. Yet, the volatility is at a ten out of ten, which is exceptionally high, and the maximum wins per spin are 5,000 times your total bet. During the free spins, you will have the opportunity to win the highest prizes, which might be multiplied by a factor of 20.
How to Win at Rise of Olympus
It is possible to generate winning combos by getting three or more symbols of the same kind to appear in a row. Getting everything entirely removed from the grid is the primary objective of the Rise of Olympus video game. In contrast to the conventional rolling reel-based games. After the winning combinations have been removed from the reels in Rise of Olympus, the new symbols will not fall into place on the reels.
You will be awarded an additional two hundred coins if you successfully clear the grid of all symbols when playing the free spins bonus round in this game, which is another of the fantastic Olympus features of this game.
How to Play for Free
Playing the Rise of Olympus free-play version is another fantastic approach to getting the most out of your slot machines and is highly recommended. Playing a game's demo version for free at a trusted casino is truly the best method to get a feel for it without having to risk losing any money. The adrenaline rush of hitting a big & fun victory and the bragging rights accompanying it may be enough for some gamblers.
How to Play for Real Money
The slot machine titled Rise of Olympus is now the most popular game that can be played at any contemporary online casino. Because it is entirely random, none of the choices you make during the game will impact how likely you are to win.
If you've never played at an online casino before, or even if you just haven't played slots before, here's how to get started with the Rise of Olympus slot machine:
Find out how slot machines operate
Find a reputable casino to play at online
Test demo mode
Sign up for an account at a casino
Pick the slot labeled "Rise of Olympus"
Have fun!
How to Play from Mobile
Rise of Olympus has a solid performance across the board. This incredible game is available for play on mobile devices and tablets. It functions faultlessly on every device, regardless of whether it is portable. You won't encounter any glitches if you play this addicting game on your iPhone, iPad, or Android device.
Tips & Hints
Slot machines are prevalent for many reasons, including that they are fun to play and don't require much skill. When playing the Rise of Olympus slot, it is vital to be aware of specific top recommendations. They cannot promise that you will make money, but there is a good chance that they will improve your chances of doing so.
These are the hints you may consider:
Begin with a more manageable bet size.
It would be best if you didn't try to win progressive jackpots
Keep an eye out for special features since they may award you more possibilities to win
Establish a spending cap for yourself, and don't go over it
---