3 Reel Slots
8 min
|
According to statistics data collected in 2020, slot machines are the most popular gambling game played at online casinos. If you are a die-hard who enjoys playing slot machines, you should learn which free 3 reel slot machines are best to play to win.
Like every other type of gambling game, 3 reel slot machines come in a wide variety. It is common knowledge that they focus on various topics, such as sports or fruits, but fewer people know that their gameplay schemes also vary. In most casinos, players can play slots with either three or five reels. Today, we will walk you through the inner workings of three-reel places and discuss the benefits of playing these games.
---
3 Reel Slot Machines for Free Play
Best Casinos to Play 3 Reel Slots
How to Play 3 Reel Slots
Adjusting how much you wager on each line is the first step in playing 3-reel video slots. Even though there are only three reels in the machine, this does not always indicate that there is just one pay line. Some online games have nine, whereas others only have three. Within the "coin value" area, you can alter the size of your wager. This is often located near the bottom of the screen.
"Bet Levels" are something of a rarity in three-reel online slot games. But if there is, you should make the most of it. The quantity of coins that may be wagered on each line is called the "bet level." Some 3 reel slots will let you wager up to 10 coins per line, but most will only allow you to spend up to five coins per line.
3 Reel Slots Bonus Features
The following is a list of typical bonuses of fruit machines that operate in a three-reel format:
Wild. This symbol can be used instead of other symbols to create winning combinations. Imagine that you have managed to land two cherries, but you are still short one. A slot machine will count the wild symbol as a cherry after it has landed where the cherry is intended to be, and you will be awarded a prize corresponding to the value of the symbol that was substituted for the cherry.
Scatter. A scatter symbol can contribute to a winning combination in a game even if it does not appear in the intended position. If you land the scatter symbols on any of the three reels of a particular slot machine, you will be rewarded with a certain number of free spins. Some 3 reel slot machines give out cash prizes rather than free games.
Free spins. Free spins, which should not be confused with casino bonuses, are a good bounty feature that does not cost you anything to spin but might award you more opportunities to win. For instance, if you successfully activate ten free spins, you will be granted ten consecutive free spins that will not be deducted from your play balance.
Respins. Another feature you might desire is a respin, which provides you with a second opportunity to increase your bankroll. When a respin is triggered on a reel, that reel remains stationary (sometimes known as "sticky"). In contrast, the other reels continue to spin, increasing the number of winning available combinations.
Jackpot. It is uncommon for traditional 3 reel slots to feature jackpots. However, more recent iterations of 3-reel slots could have them. Jackpots are unique awards that, depending on the slot machine, can be set amounts or grow in value over time.
Our Tips to Win at 3 Reel Slots
In their most basic form, slot machines are intended to take in more money than they give out, which is why there is no foolproof method for winning at 3-reel slots. However, keeping in mind these five short pieces of advice can assist you in playing slots more effectively, extending the time you spend playing and maybe even coming ahead:
Have fun, first and foremost. Find a casino online that provides free spins or bonuses on slots with three reels and play there. If you want to become more familiar with a slot machine and its features, the best way to do it is to play for fun first. You will have a better understanding of the payouts, as well as the level of difficulty required to activate any additional features that may be included in 3 reel slots.
Carry out some study. Don't just go ahead and put money in any slot that you find. Check out the reviews to discover other people's experiences with the rewards and games. Even though specific 3 reel slots, mainly branded games, have enticing visuals and a plethora of extra features and bonuses, this does not necessarily guarantee that they have a high payout percentage.
Play with the highest possible bet. If you want to enhance your chances of landing a winning combination when playing three-reel slots with many paylines, ensure you stake the maximum amount and activate all the paylines. If you don't, there is a reasonable probability that you will win on a line that is not now open. The maximum payout or jackpot for most slot games can only be won if the player wagers the total amount on each spin.
3 reel slots with a greater return to a player percentage should be played first place. If the RTP % is high, it indicates that the return on investment you may expect will also be increased. Although the average return-to-player rate across the industry is at around 95%, slots that provide jackpots may have a return-to-player rate that is set to a lower percentage. Play 3 reel slots with a return to player percentage (RTP) of 95% and 99% if you enjoy playing games with a lower RTP.
Always keep an eye on volatility. The more dangerous the game, the larger the payments; thus, it is up to you to determine which payoff patterns best suit your gaming preferences and financial constraints. Punters who are just starting out and want to understand better how the game works should look for low-volatility games. These 3 reel slots often have a high action rate and award several lesser prizes more frequently.
Top 10 3 Reel Slots
The player's needs and tastes should be considered while designing the most phenomenal games. On the other hand, depending on the reviews, the following are some titles that you will love running.
Fire Joker
Play'n Go has created a 3-reel, traditional slot machine game called Fire Joker. This game comes close to being a combination of classic and video slots. The extra features, which include a sticky symbol respins function and a Wheel of Multipliers, cause this. You may benefit from both of these elements in this game. The features of classic slots are often rather basic, so the Fire Joker slot machine is a welcome change.
You may bet up to $100 for each spin across all platforms and devices, and the game comprises three reels, three rows, and five chances to win. The RTP for the game is relatively standard at 96.15%, and while the game has a medium degree of variation, it leans more toward the upper end of the medium range than it does toward the lower back.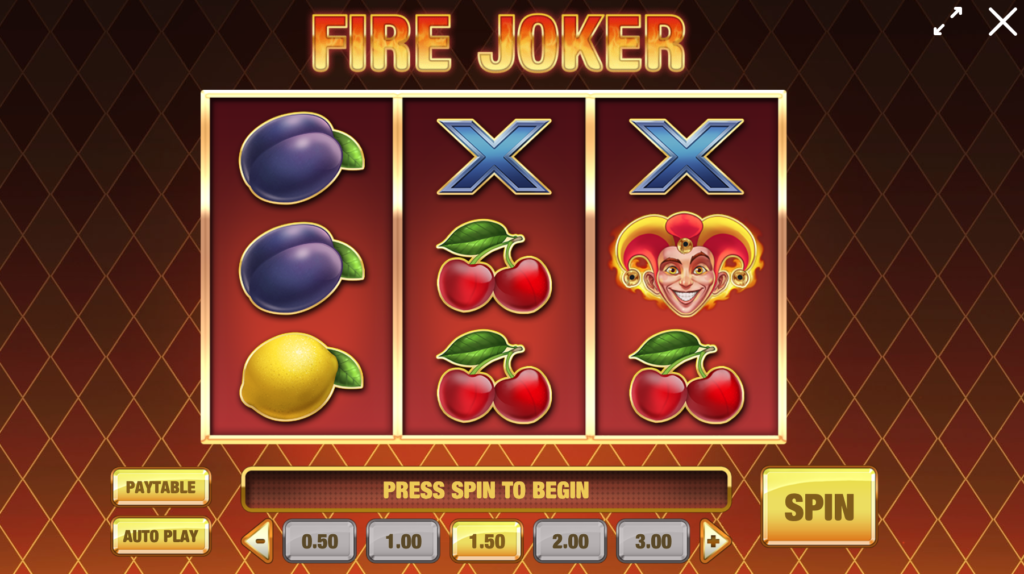 Mega Joker
The NetEnt software platform powers the Mega Joker slot machine, which features three pay lines and a progressive jackpot. Gamblers are invited to test out this classic slot machine with a fruit-themed motif here on this website for free, or they can choose to play the game for real money at any of the linked NetEnt casinos.
Players need to adjust their wagers before beginning to spin the reels. By choosing the "Bet" button, they can bet either one or ten coins on each spin.
The coin value may be changed from 0.1 to 1 by pressing the coin symbols in the upper right corner of the screen. The range of possible values is from 0.1 to 1. Players may begin the game by pressing the "Spin" button, and if they want to gamble the most amount possible, they can hit the "Max Bet" button.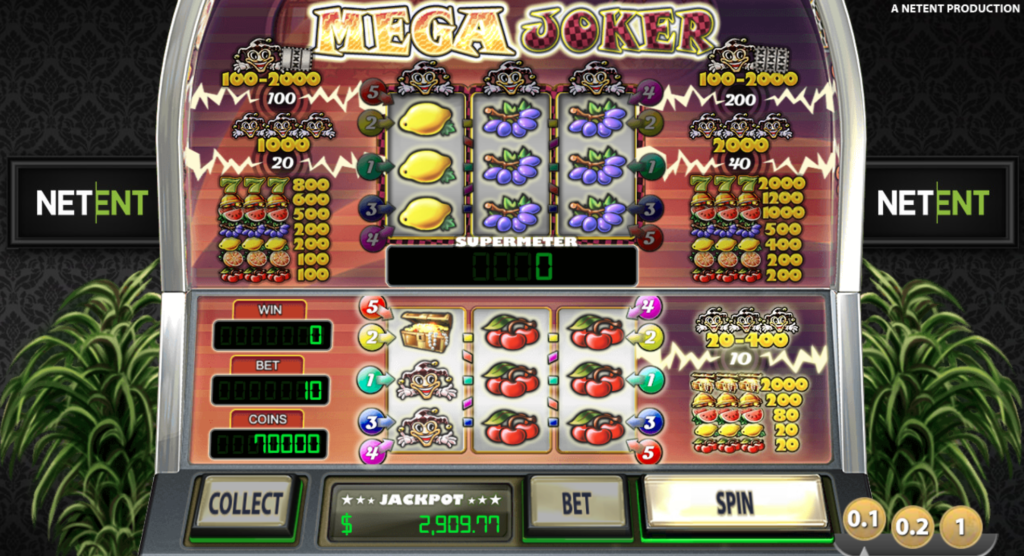 Couch Potato
The Microgaming slot machine, Couch Potato, is an older-style game with three reels. Because there is only one payline, the gameplay is relatively straightforward. Up to three coins can be wagered every round, and the value of each currency can be customized using the buttons on the control panel.
Even though it has few distinguishing characteristics, a very valued wild symbol can double the win by a factor of five for each character contributing to a winning combination. If you get three wilds on the line, you win the Couch Potato jackpot, worth up to $75,000!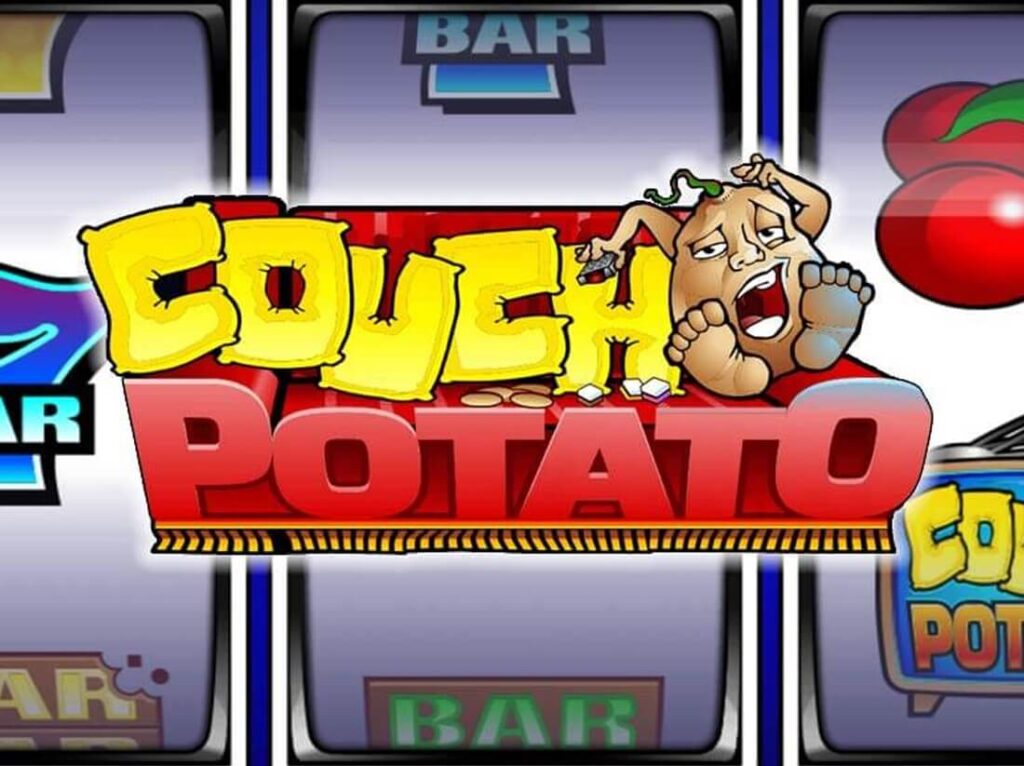 Hot Chilli
The maximum win on Hot Chilli is x888 times your wager, and the return is 96.52%. The volatility is average. The game is consistently exciting because the arithmetic is relatively even, and there is the potential for large swings. In the grand scheme of things, it delivers a robust gaming experience.
Hot Chilli is a game that will appeal to players who enjoy gameplay that features both traditional and unique components. Even if you don't trigger any bonuses, the main game is still entertaining. If wilds, scatters, or any other special symbols or features show on the screen, the excitement level skyrockets to an entirely new level.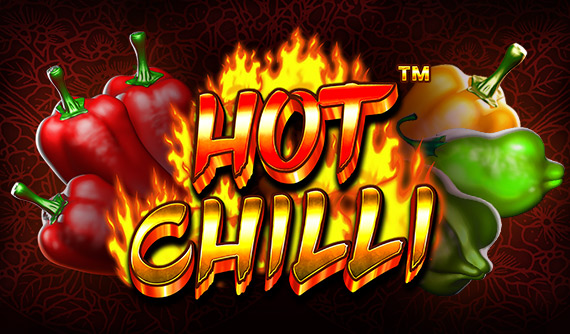 The Wheel of Fortune
This is an older-style slot machine with only one payline and three reels. The classic look is further communicated through traditional-looking symbols and the familiar sound effects of casino 3 reel slots. The aesthetics are straightforward and uncomplicated, which is appropriate given the one-armed bandit theme of the game.
You can bet one, two, or three coins, with the greatest wager resulting in the biggest possible winnings. The game features an auto-play option, allowing users to automatically select the times they want the reels to spin. A wild symbol that may multiply rewards by up to four times and a bonus round are two of the game's most essential elements.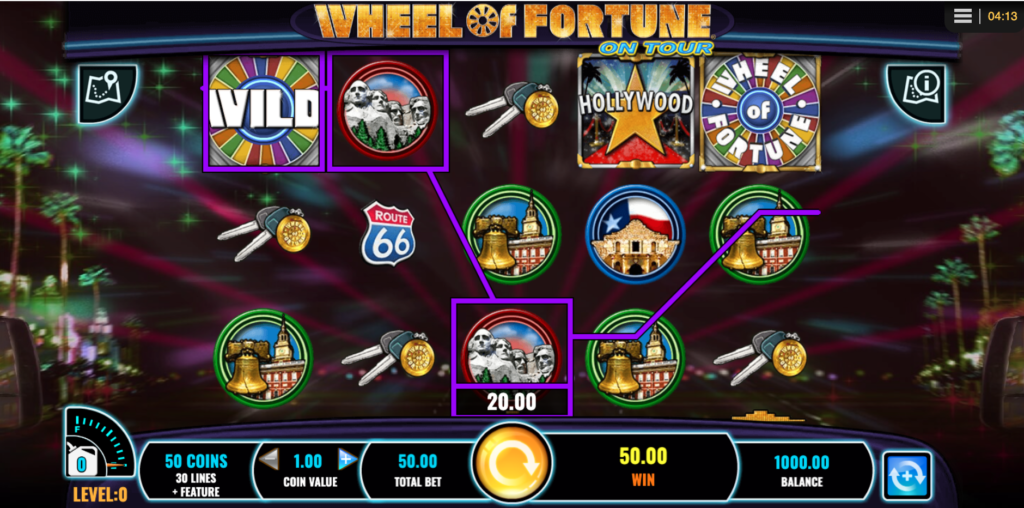 Best Providers
The following game companies are among the most recognized for developing traditional slots with a modern twist: Microgaming, Aristocrat, Bally, and WMS are the top-rated 3-reel slot game developers. Here're some more Tier-1 providers offering top-level online slots:
NetEnt
Novomatiс
Yggdrasil
Playson
Play'n GO
Advantages and Disadvantages
Players have many reasons to choose slot machines with three reels. To begin, novice gamblers who aren't familiar with the intricacies of playing slots will have an easier time understanding them. Since 3×3 reeled machines have fewer pay lines, novices will quickly become familiar with what they should do to win and how to play 3 reel slots.
Hits:
These machines have three reels, so players have a better chance of winning money when they play them. The reduced number of pay lines improves slot machine volatility and return to player percentage. Because these slot games don't typically call for large initial deposits, you'll find that your money will go further when you play them.
3 reel slots that have a structure with three rows of three reels are the best option for those who prefer traditional casino games. To our good fortune, there are still a significant number of fruit machines and slots with retro-style themes accessible to play online.
Playing 3D slots with three reels has a few drawbacks, even though winning is relatively simple.
Misses:
Few Bonuses. Most of the slots that fall within this category do not have any bonus rounds. It is unusual for a slot machine to fall into this category to have additional features like wilds, scatters, or free games. An operator will not profit sufficiently if these extra features are included.
Low Payout. Because it is so simple to win, the awards are almost always on the low end. When playing a slot game, you shouldn't expect to win a progressive jackpot in this area.
---
FAQ
1️⃣ What is the difference between classic slots and video slots?
There are no bonuses or unique symbols in classic slot machines. There are a few notable outliers, but on the whole, this is not the case. On the other hand, video slots typically include Wild and Scatter symbols, in addition to a sequence of one-of-a-kind bonuses that, when activated, open up lucrative winning opportunities.
2️⃣ Can I play three-reel slots on my mobile?
Yes, you can. These days, service providers make it a point to check that each slot game they offer may be accessed via mobile devices by developing it using HTML5 software.
3️⃣ Can I play three reel slot games for free?
Yes! You won't need to download or fill out any registration information to access the thousands of amazing free slot games available online.