Wolf Run Slot Review for Canadian Players
7 min
|
Wolf Run Slot Information
| | |
| --- | --- |
| ⚡️ Slot Name | Wolf Run |
| ⚙️ Software Provider | IGT |
| 🤩 RTP | 95% |
| 🎡 Paylines | 40 |
| 🎰 Reels | 5 |
| 💰 Min Bet | $0.40 (CAD) |
| 💸 Max Bet | $800 (CAD) |
| 🔴 Themes | Wolf, Nature |
---
Best Casinos to Play Wolf Run For Real Money
Best Wolf Run Bonuses
Wolf Run Slot Review
Wolf Run is 5 reels and 40 pay-lines video slot software. This section includes anything related to the enigmatic realm of shamans. The Wild symbol in the game is represented as the howling wolf howling to the full moon. The free Spins bonus round is triggered with the burgundy-colored bonus symbol.
Wolf Run is a classic slot machine game played on a 4×5 reel set, with mountains and forests in the background. There are 40 pay lines and the RTP is 94.98% with a low to medium variance. Despite the outdated graphics and cliché land-based slot sound effects, it kind of adds to the enjoyment of the game.
They may play the game on their computers as well. Players will enjoy every bit of excitement in the Wolf Run online slot regardless of the gadget they use. This slot game first appeared as a tangible slot machine in land-based casinos many years ago and was a huge hit, due in part to some clever marketing.
Theme, Graphics & Sounds
If you haven't guessed from the title, this slot title incorporates the wolf motif, which is extremely popular right now, as well as the ever-popular nature theme. Wolf Run, one of several online slots that employ the wolf theme, makes effective use of it with basic, to-the-point graphics that emphasize the enigmatic and strong features of the magnificent wolf.
The visuals and sounds of Wolf Run slots are rather basic. The graphics resolution isn't the finest, and if you're using the mobile version on a smartphone, it might be tough to read the symbols well.
Playing the Wolf Run slots on a PC is OK because the screen is larger, but the quality of the visuals would not win any awards. Other animal-themed slot games with significantly nicer visuals than Wolf Run are available.
The game's sound effects are also rather simple. When you win, you might hear various amusing noises, such as a howling wolf. Every time you spin, the game's theme song will play, which is fine. Even while its slot machine noises are not the finest, they are not the worst either.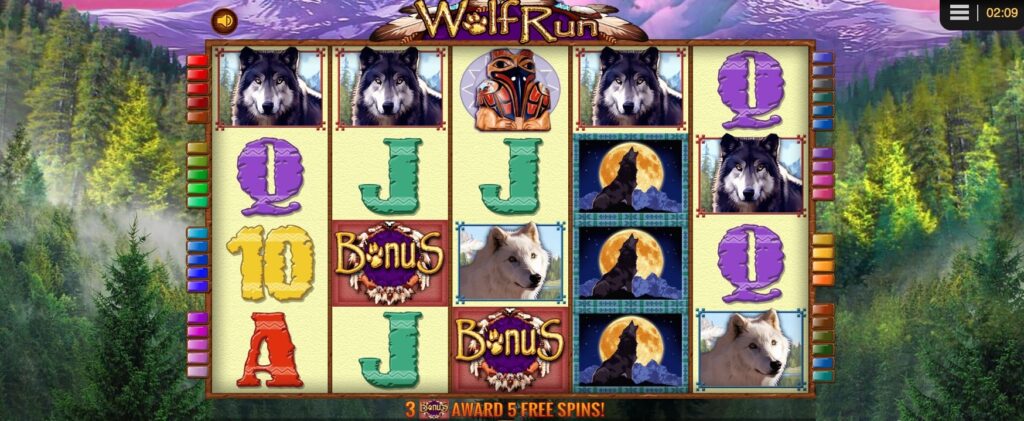 How to Play
The animal-themed Wolf Run slots game is best described as having a "classic old-school feel." With many current slot games including a plethora of sophisticated features and visuals, it would be tough to find greater excitement elsewhere. We do not, however, feel that you should avoid playing the Wolf Run slots.
Simplicity is often a wonderful thing in life, and it may be the same with slot machines. Many current online slot games are quite complex, and if you don't know all of the rules, you'll be confused half of the time. This will not provide for a fun gaming experience.
You won't need much time to learn how to play Wolf Run slots. You can figure everything out by playing the demo game a few times for practice. Playing the Wolf Run Slot This is advantageous since you can concentrate on your betting strategy rather than fret over Wolf Run's gameplay.
Although Wolf Run is still playable, there may be some upgrades made to the aesthetics and sounds. Using a smartphone and not being able to correctly differentiate some of the symbols is simply unacceptable.
Bonus Features
A card with the word "bonus" serves as the Wolf Run slot's bonus feature symbol. They utilize howling wolves on the moon for the wild. The symbols are the same during free spins, but now they are shown against a black backdrop.
The line bet is multiplied by all line payments. Choose between 1 and 40 pay lines, and wager as little as 1 or as much as 50 dollars per line. For this reason,
Wolf Run has 5 reels and 40 pay lines in total. The following are the remaining generalities:
A single coin's size cannot be changed, and it is 1.
The stake per line may be adjusted from one to twenty dollars.
The number of active pay lines for each spin may also be changed from 1 to 40.
The total bet is determined by the previous two factors. It varies from 40 to a maximum of 800.
The maximum payment (jackpot reward) is set at 1,000 credits.
There are no further bonus rounds in Wolf Run, but the free spins feature and autoplay are available.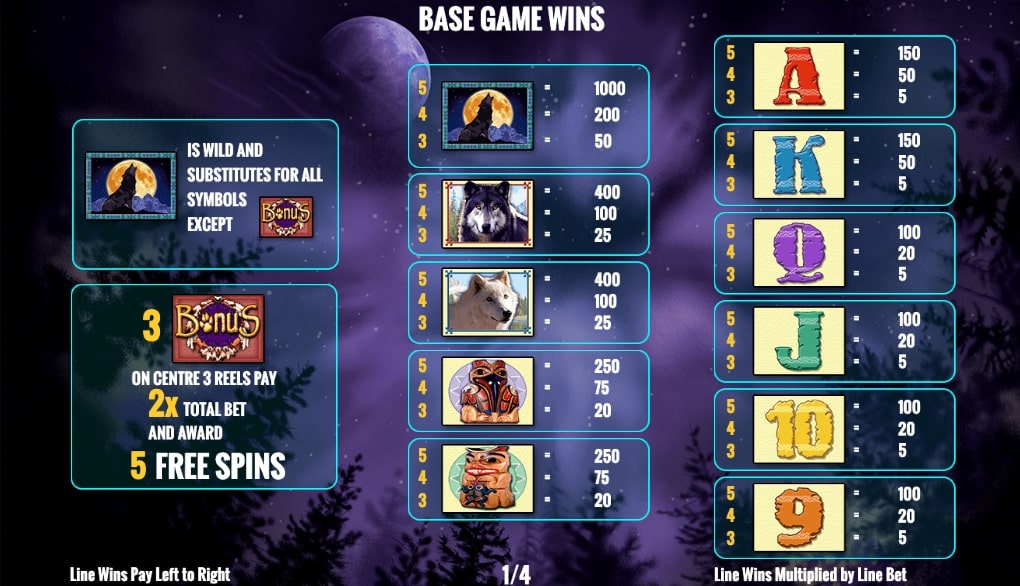 Game Symbols
Wolf Run Slot Machine Symbols displayed when the reels stop showcase stunning workmanship, as does the rest of the game, to further underscore the theme utilized as inspiration. The Wolf Run slot machine's symbols are as follows:
A, K, Q, J, 10, and 9 are the playing card characters.
Wolf Howling
Eagle Black Wolf White Wolf Dream catcher totem Brown totem.
Slot machine Wolf Run. Only the wild and dream catcher icons provide credit winnings; instead, when three of these appear, players are awarded a round of five free spins.
Only the second, third, and fourth reels have the scatter symbols, and their rewards are independent of how they land on a pay line. Additionally, the payment amounts have been increased to double what players would ordinarily win in the original game.
Bonus Rounds & Free Spins
More free spins can be added by landing three more bonus symbols on the center reels. As with the main game, you get a cash prize of double your total bet and 5 free spins on top.
While this may appear to be a low number of spins in comparison to other games – you must
To activate the free spins game, you must land the bonus symbol on reels 2, 3, and 4. This is a Native American necklace that says Bonus.
This initially activates 5 free spins. While the symbols stay the same, the background is transformed into a night scene, complete with a moon and purple/blue colors above the reels. To complete the impression, the symbols now have a dark backdrop.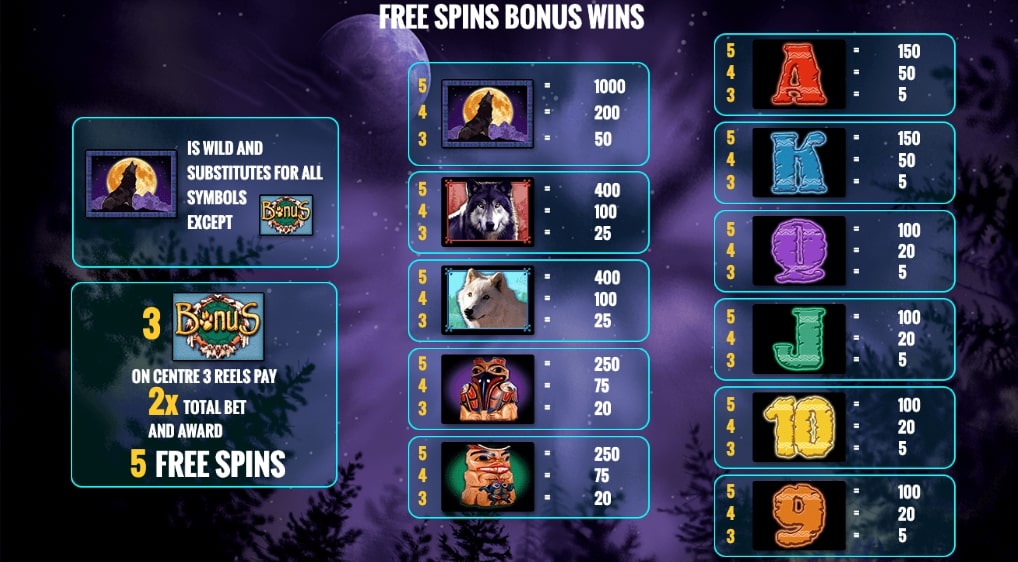 Paytables & Winning Combinations
Winning Combinations the Wolf Run slot game lacks in-depth features that necessitate strategy or even guessing because of its age. The sole way to affect your performance on the slot is to gamble larger sums, which will raise your winnings if you produce a successful line or reach the bonus round.
Work There must be a total of 216 possibilities because there are three slots with six symbols each.
This is because 6 × 6 x 6 = 216
Greater denomination slots have a higher payback percentage.
Make sure you bet enough to be eligible for the jackpots.
Select games based on your objectives and playing style.
Always stick to your budget.
Begin small to win large, or "prime the pump."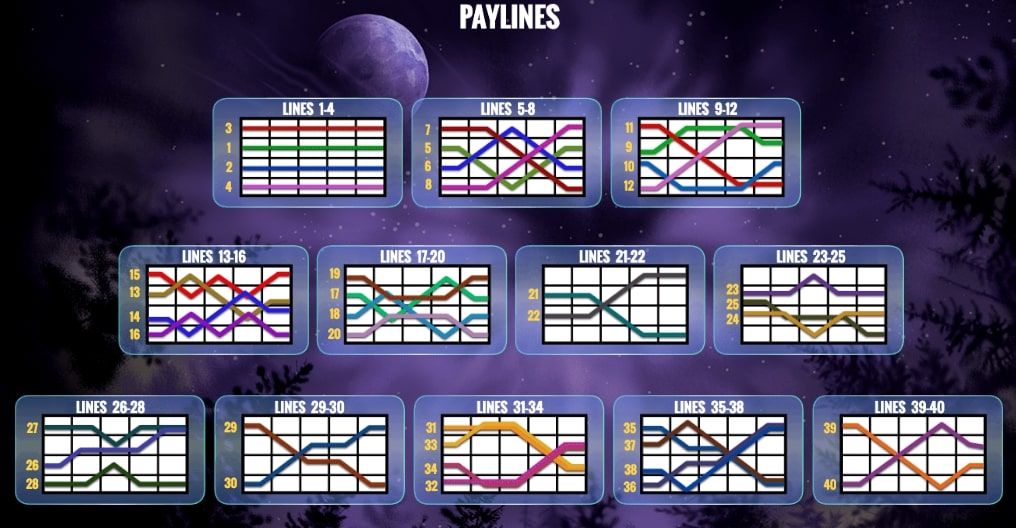 RTP & Volatility
Players in Wolf Run report a lot of hits. Three bonus symbols landing simultaneously on the second, third, and fourth reels will trigger five free spins and double your wager. The RTP of the medium volatility online slot machine is 94.98%.
How to Win
The Wolf Run Slot How to Win game does not have any intricate elements that necessitate any strategy or even guessing. The only way to affect your performance on the slot machine is to bet larger sums, which will enhance your payouts.
✅ Finding a game with the best slot machine odds is the most important trick to winning slots. Choose machines with higher payback percentages to increase your chances. The house always has an edge, just like in roulette or other games.
✅ Playing the most advantageous games will increase your chances of having a profitable session. If you start off losing, you'll wind up striving to make even, which will cost you even more money. Choose machines with lower jackpots and larger payouts.
How to Play for Free
Welcome to our comprehensive review of the Wolf Run free slot no download – Wolf Run Slot. One of the most popular penny slot searches is "wolf games online where you are the wolf." By reading the essay, you will have an understanding of how this old-school penny slot machine works in light of all of its technical characteristics.
You will also discover a small but helpful guide covering all of the must-know bonus combinations and fantastic hints to make your game shine even brighter. The unmistakable famous online casino game drew influence from Native American culture. Indeed, the majority of the emblems and noises communicate the enigmatic essence of old stories.
How to Play for Real Money
Wolf Run may be played for real money on any web browser that has a Flash player, so there is no need to download any software. The following explanations of the features on the slot's control panel for Real Money:
Spin—press this button to start the reels spinning;
Use the Stake/Line button to choose your per-line wagering amount.
Lines — indicate how many pay lines you wish to activate;
Paytable – see the chart that lists all potential winning combinations and multipliers.
Autoplay – start the game automatically so you don't have to sit in front of the screen;
The stake is the total amount you wager per round; the Total Paid is the sum you are paid based on the outcome.
How to Play from Mobile
The Wolf Run app is compatible with Android 2.2 and above. It speeds up the unlocking of themes by using an improved slot machine to provide Android OS users with the greatest HD experience possible. The program is simply available on both Windows and Mac laptops and desktops without the need for extra online casino software downloads. A relaxing game experience with no pop-up advertising or spam.
This online slot's main release is developed on HTML 5. If you want to play while away from your PC or Mac, the creators will provide you with a mobile version for your smartphone or tablet. Because the game does not necessitate any high-tech solutions, most phone operating systems will manage its online or application version. Enjoy this penny slot machine's gambling experience on your: iPad/iPhone/iPod; Android phone or tablet;
If you want to attempt the mobile version of the Wolf Run slot machine, which is believed to be precisely the same as its web counterpart, try the free version first instead of the real money experience.
Tips & Hints
There are no intricate elements in the Wolf Run slot machine that call for strategy or simply guessing. The only way to change how successful you are at slots is to increase your bets. Every free spin has a 2x multiplier applied to it. A further three Bonus symbols will trigger an extra round of free spins.
---