Gold Fish Slot Review & Demo Play
7 min
|
Gold Fish Slot Details
| | |
| --- | --- |
| ⚡️ Slot Name | Gold Fish |
| ⚙️ Software Provider | WMS |
| 🤩 RTP | 92% |
| 🎡 Paylines | 25 |
| 🎰 Reels | 5 |
| 💰 Min Bet | $0.35 (CAD) |
| 💸 Max Bet | $3 (CAD) |
| 🔴 Themes | Nature, Animals, Seal Life |
---
Best Casinos to Play Gold Fish For Real Money
Best Gold Fish Bonuses
Gold Fish Slot Review
One of the games that are played the most at traditional casinos is the Goldfish slot machine. It seems to sense that the online version will enjoy similar popularity. On the five reels of this freshly developed game, there are 25 fixed paylines.
Play the Goldfish slot machine online if you want to go sea fishing for strange and exciting aquatic creatures. A goldfish serves as the most important emblem and as the wild. There are also two additional features: a scatter that triggers a Fish Food round for additional payouts, and a Fish Feature that lets you activate unique bonuses.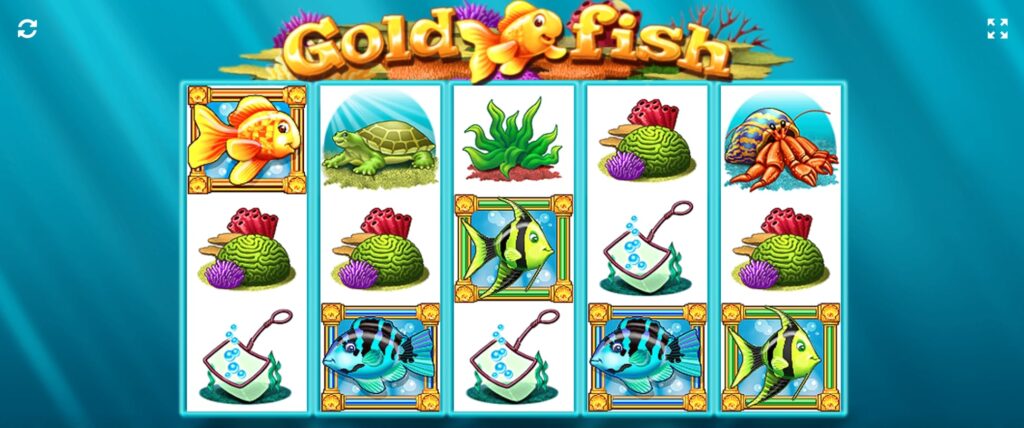 Theme, Graphics & Sounds
The theme, graphics, and sounds for the Gold Fish slot machine Consider fish swimming in a massive tank, accompanied by relaxing steel drum music. That is the Gold Fish casino slot game in a nutshell.
Clownfish, Angelfish, Goldfish, and blue and purple tropical fishes appear on the slot machine with coral reefs, crabs, and turtles. The fish remain immobile unless a player gets a payline or bonus. If the bonus rounds did not appear regularly, the game would get monotonous.
The bonus rounds, on the other hand, provide more animated excitement, with the fish dancing and diving on the screen. The graphics are of poor quality overall, with the edges of the fish appearing pixelated on the screen. This isn't surprising given the Gold Fish slot game's age. Steel drums, xylophones, and trumpets are used in the cheerful and enjoyable tropical mix of the Gold Fish slot machine soundtrack. When the animations get monotonous, the slot players are drawn in by the enticing tune.
How to Play
This no-download pokie machine relies more on chance than skill. Although the rules are straightforward, you must comprehend them to play real money games successfully.
You win by spinning matching symbols on the 5 reels and 25 paylines of the Goldfish slot machine.
Get three or more to be eligible to win, plus many other features.
Place your wager, but change the timing as necessary.
To automatically spin up to 500 times, use the autoplay mode.
Rotate the reels in search of lucrative combos.
To enhance your rewards, land wilds on reels 2, 3, and 4.
Bonus Features
The bonuses in the slot machine are separated into two levels. When you collect three to five scatter symbols, you will be awarded six, eight, or ten free spins. The player selects extra characteristics before they begin (golden bet adds +1 pick here).
The finest feature is when you select: 2 random wilds, x2, stacked bluefish (as their number on the reels is at its maximum), bluefish as wild, and +6 free spins. These characteristics increase your chances of winning during the free spins feature.
When they initially install Gold Fish Casino Slots, all new players receive 3.5 million coins, which is rather substantial in and of itself. But, as the late-night infomercials say, "wait, there's more!"
You can earn 5 million coins for connecting to Facebook, 250,000 coins every 2 hours, and 500,000 coins at a minimum every day you play. If you enjoy being social, you can earn up to 1 million extra coins by sending and receiving gifts from your friends.
Game Symbols
The high-paying and low-paying symbols in this slot machine are categorized as follows:
Fish with a high market value include those that are wild, red, purple, blue, and green. The food distribution also pays well.
Low-value items include marine plants, coral, fishing nets, turtles, and crabs.
The wild pays for matching up to two symbols, while the scatter can appear anywhere on the reels. The icons pay off when at least three of them line up on a payline from left to right. The paytable below shows the payout amounts, which are multiplied by the line bet.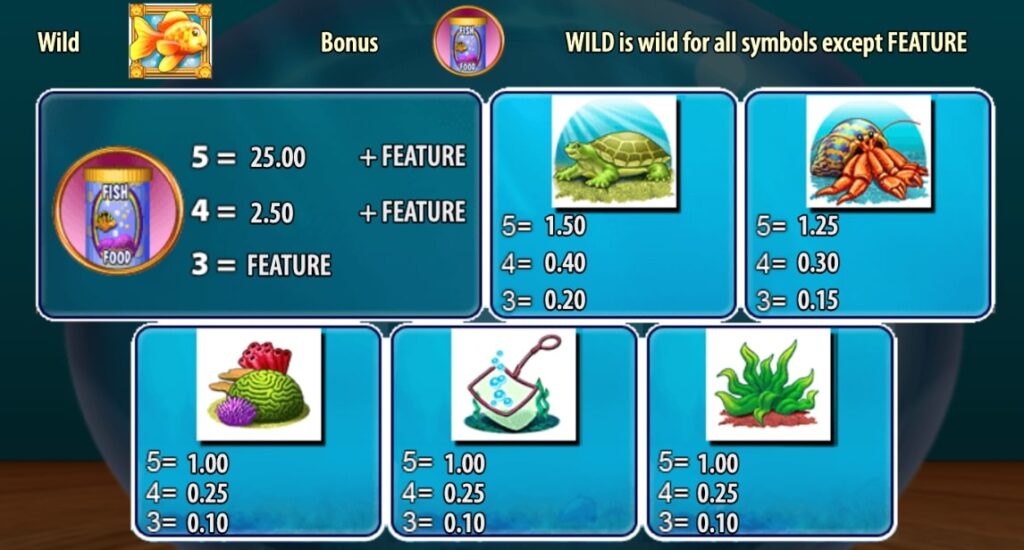 Bonus Rounds & Free Spins
To spice up your gameplay, the penny slot contains bonus rounds and free spins. When three or more matches appear on the screen, the Goldfish symbol initiates them. The bonus spins are awarded in groupings of five, eight, ten, fifteen, and twenty, with multipliers ranging from two to three, five, seven, or ten times.
Even though there are up to five symbols that might reveal random wins following a spin in the Gold Fish video slot, the scatter symbol is significant. If you obtain three or more matching symbols go to a high-paying casino.
Vary your stake while remaining within your budget.
When on a winning streak, place the maximum wager.
Look for free spins.
Focus on accumulating funds.
When they initially install Gold Fish Casino Slots, all new players receive 3.5 million coins, which is rather substantial in and of itself. But, as the late-night infomercials say, "wait, there's more!"
You may receive 5 million coins just for signing up on Facebook, 250,000 coins every 2 hours, and 500,000 coins every day you play. If you enjoy being sociable, you may earn up to 1 million more coins by sending and receiving presents from your friends.
Purchasing more chips is simple and quick, but with bonuses like these and lesser prizes every time you level up, it's completely feasible that you'll never need to touch your wallet while playing.
Paytables & Winning Combinations
You must first examine Goldfish's paytable to see which symbol combinations produce the highest rewards. In the online version, landing five goldfish on the grid will result in a win of about 300x your stake, while landing five clownfish would result in a 30x payout. Fish tokens are the high-paying symbols in the Goldfish slot, while fish food, a turtle, a hermit crab, coral, a net, and some seaweed are low-paying. That implies you should only become thrilled when you see swarms of similar fish on your screen.
Different bonus packages are available to players depending on the color of the fish:
Purple: It releases three air bubbles each holding a number that may be manipulated to produce a multiplier of 25 to 200.
Gold: This symbol can result in 5 to 20 free spins and a 10x multiplier.
Blue is a super scatter that may double your stake by 20 to 100 when it is part of a winning combination.
Red indicates castles that you can pick to win a reward from.
Green: It gives you the option to select a bubble from a variety. One significant one is that, by chance, you could win the whole amount listed on the paytable plus a 5 to 50x multiplier.
RTP & Volatility
The Player's Return Gold Fish Slot RTP & Volatility percentage (RTP), often known as the payout percentage is the amount of money that a slot machine pays out in wins from players' wagers on average. The RTP for Gold Fish slots is 96%, which is somewhat higher than the average for online slot games. Other slot games, such as Mega Moolah or Ugga Bugga, have greater RTPs, but Gold Fish is a low-to-medium risk slot game.
Variance, volatility, or pay frequency relates to how frequently and how much a slot game pays out. High-volatility slot games seldom produce victories, but when they do, the jackpots are life-changing. Low-volatility games pay up regularly, but the payouts are small.
How to Win
The highest reward comes from landing five goldfish for gamers wondering how to win Gold Fish slots games. These profitable tiny fish will pay off 10,000 times your initial stake – players may earn up to $1,050.000. The goldfish also serves as a wild sign in the game, replacing all other symbols except the scatter. This symbol is represented by a tub of fish food in Gold Fish slots.
The second-largest win in Gold Fish slots is five fish food symbols, which pays out 2,500 times the original stake. Aside from the goldfish and fish food icons, players must hit at least three comparable symbols on the paylines to win in this slot game. Alternatively, gamers can win large sums of money.
How to Play for Free
You may play these games for free and try out the different goldfish slots whenever and whenever you choose. The Gold Fish Casino Slots is a Play-For-Fun casino that does not provide real money gaming and is just meant to be enjoyed for entertainment purposes. Every in-game purchase is final. The games are designed with adults in mind.
How to Play for Real Money
The majority of gamblers seek to win an equivalent amount of actual money in addition to the excitement and pleasure they derive from the game. When you want to experience Las Vegas without really leaving where you are, online casinos are the ideal option. Consequently, you may place bets and get payments. To begin playing for real money, all you need to do is open an account on any device. Whether you download the slot or not is entirely up to you. It won't make it impossible for you to win money.
Playing with Real Money You may play a free Goldfish online no-download game without having to register or download anything. To play free slot games, no downloading client is required, especially if the goal is to practice. However, playing for real money necessitates at least a registered account, but a download is not always required.
How to Play from Mobile
Apps for iPhone/iPad, Android, and Kindle are all accessible from their respective app stores, and they all feature in our Gold Fish Casino Slots mobile review. With average ratings of 4.8 for Apple and 4.6 for the Google Play Store, it is obvious that the developers of the Gold Fish Casino Slots app are experts in their field.
Tips & Hints
It should go without saying that even the most skilled players are interested in learning new casino game strategies and tips. Typically, there are a few aspects of the game that players are most drawn to: Some gamblers divulge game secrets and share their strategies with other players. Of course, free coins for the Goldfish slots are what almost all game enthusiasts dream about. They enable them to play more leisurely and boost their chances of winning more. It's always a good idea to discuss hacks with other Goldfish players and exchange tips or to look for like-minded individuals on Facebook.
Because the game has simple controls and challenging gameplay, players must learn additional tips and techniques. The following are some crucial tips and tricks that all users should be aware of:
Obtain more Coins — This implies that users must continually acquire additional Coins. Reading additional stories and chapters in the game is a straightforward way to earn Coins.
"Catching the Wave" is one of the most effective internet-winning methods. To put it into practice, you should study the Goldfish Slot Strategy in greater depth in the demo mode or with the lowest possible stakes. The truth is that the return in Goldfish Slot either completely or nearly entirely dies.
---