Gates of Olympus Slot Demo Play & Review
6 min
|
Gates of Olympus Slot Details
| | |
| --- | --- |
| ⚡️ Slot Name | Gates of Olympus |
| ⚙️ Software Provider | Pragmatic Play |
| 🤩 RTP | 96,5% |
| 🎡 Paylines | 5 |
| 🎰 Reels | 6 |
| 💰 Min Bet | $0.20 (CAD) |
| 💸 Max Bet | $100 (CAD) |
| 🔴 Themes | Ancient Greece |
---
Best Casinos to Play Gates of Olympus For Real Money
Best Gates of Olympus Bonuses
Gates of Olympus Slot Review
Slot machine games have made extensive use of Greek mythology. Greek Mythology, like other popular subjects such as animals or foreign places, makes it simple for a slot machine to be entertaining while conveying a tale. The newest entry into the Greek Mythology slot industry, Gates of Olympus, was recently published in February 2021. The producers of this slot believe that it provides lots of action for prospective gamers. Is it as good as it sounds let's find out in our review of the Gates of Olympus slot machine! 
Players who are familiar with the world of just slots will see that Gates of Olympus is heavily influenced. However, this is not a reskin, and the modifications and enhancements more than warrant another release. The Greek mythological subject and graphic presentation are not very adventurous, but they accomplish the job.

Because of the Pay Anywhere engine, every combination of 8+ matching symbols is a winner, and any combination of 12+ of the 4 premiums is worth between 12x and 50x your stake. The bonus round multiplier from Bonanza has made its way into the base game and has been significantly improved. While the 5,000x potential may appear to be lower, it appears to be far more achievable. 

Imagine arriving at the Gates of Olympus to discover a grumpy Zeus with blazing blue eyes, ready to hurl lightning bolts down on your head. The Ancient Greek gods were notoriously fickle, with many believing they were more or less human-like, just gifted with the ability to do anything they pleased. 

Mortals had to keep their heads down, show enough deference, and hope they didn't catch the gods off guard. However, after reading the classics, it appears that even sacrificing the appropriate number of bulls was no guarantee of not being transformed into a linden tree.
Theme, Graphics & Sounds
The graphics and theme of the Gates of Olympus slot are heavenly in appearance. They designed it to resemble Olympus, and it does, with Zeus floating on the right side of the reels. The music is mostly relaxing and soothing. However, the gameplay is not relaxing, so be prepared for some action. 
The play has consistently made sure that its thrilling games give players the greatest possible gaming experience. Greek-themed video slot Gates of Olympus is located on Mount Olympus. Zeus and pillars with flames on top serve as the game's finishing touches in the background. 

It has a gorgeous color scheme that makes it appealing. As you play the game further, you may listen to music for entertainment. Players can easily load and play the game because of the excellent visuals. You may play this game without downloading any software.
How to Play
Gates of Olympus, like many other slots, is simple to play. To begin playing, use the "-" and "+" buttons to alter your bet amount before pressing the spin button. The reels will spin, and the slot machine will handle the rest of the game. However, most Pragmatic Play slots have features that make playing them easier and more enjoyable. Gates of Olympus is no different.
The first addition to the game is a toggle on the left side that allows you to wager a bit more every spin for a chance to win the feature twice. To have this extra chance, you must increase your bet by 25%. 

What to Do Second, similar to many brand-new online slots, Gates of Olympus allows players to skip all the reel spinning and get right into the bonus game. This costs 100 times your wager for Gates of Olympus. Players may purchase the bonus instantly for $100 or spin for $1 in the hopes of receiving it sooner by paying $1 for every spin. Whatever the players decide to do in this situation is up to them. However, by setting the price at 100 times the bet amount, players should be informed about how frequently they can anticipate receiving a bonus if they decide to spin the reels.

The Autoplay button is located beneath the Play button. This button can be pressed by anyone before each rotation. It enables players to use auto-spins. To manage sound, click the speaker button in the lower-left corner. The three lines allow you to change the settings, while the info button provides additional information.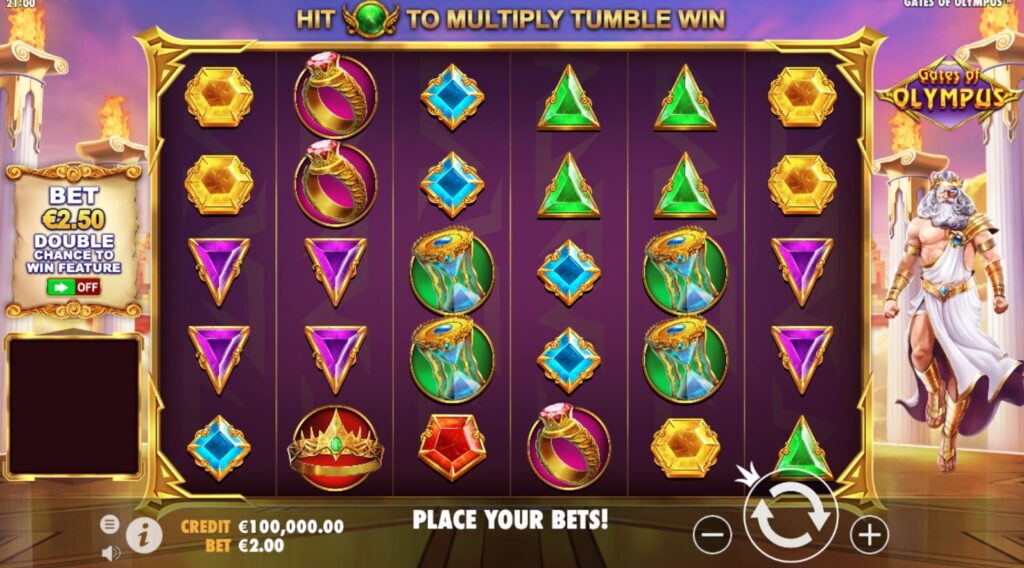 Bonus Features
Let's start with the fact that this slot features a feature known as the Tumble Feature. Once you have been rewarded, you will receive new symbols in place of winning symbols as a result of this Gates of Olympus extra feature. These symbols will continue to disappear as long as you achieve fresh winning combinations in a row. During spins or tumbles, players can come across four distinct jewels, each with a multiplier of up to 500 times their wager. 
Colored flying gemstone orbs will appear on the reels, with multiplier values ranging 
From 2x to 500x. 
The multiplier values from a tumble sequence are put together to increase your 
Total win and multiplier orbs occur both in the basic game and during the bonus round.
Game Symbols
When it comes to the number of fundamental symbols, The Gates of Olympus is similar to most games. There is a set of nine fundamental symbols. It's important to remember that you don't have to land identical symbols on neighboring reels or certain paylines to win a payout. 
These symbols function similarly to scatters in that they pay everywhere in view. You will be compensated if you strike three matching symbol combinations – 8 or 9, 10 or 11, 12 to 30. 

The low blue gem combo will pay 0.25, the middle 0.75, and the high combo will pay 2 times the initial bet.

Players can earn up to 4, 5, 8, or 10 times their initial bet by using the green, yellow, purple, or red gems.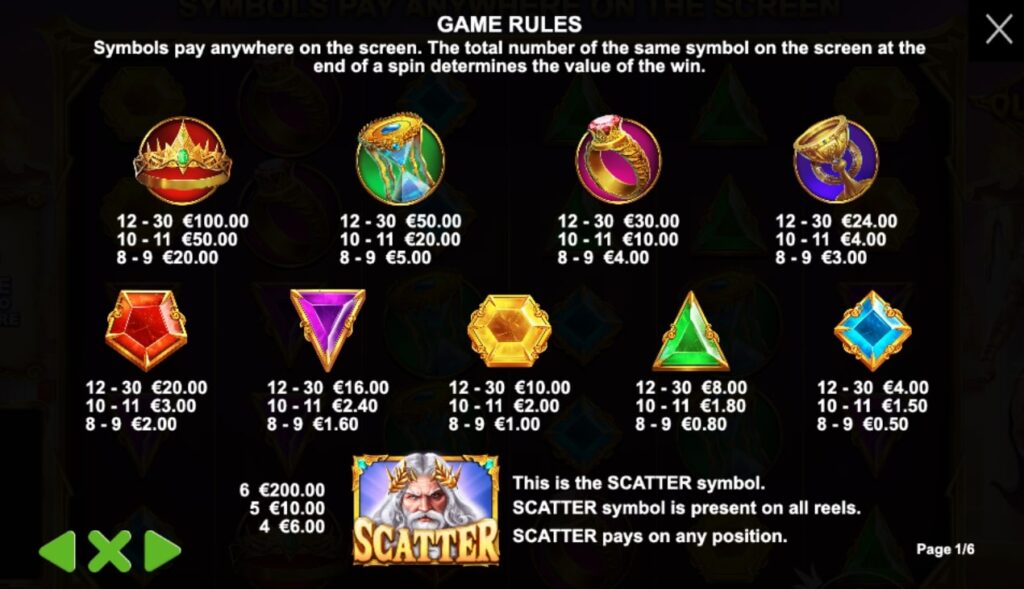 Bonus Rounds & Free Spins
The free spins round will begin with 15 initial spins, and the multiplier value will be added to the total multiplier each time a multiplier symbol occurs on a winning spin. You will receive an additional 5 spins on top of the total number of spins remaining each time you strike 3 more Scatters during the round. 

We plodded around in the base game for a while, picking up a few decent wins here and there. We succumbed quickly, though, and chose the extra buy option. The free spins begin at 1:12 into the 3-minute highlights video below, and our global multiplier reaches 11x near the finish. 

In our Gates of Olympus review, we mentioned that several bonus features could be triggered during the base game. The Ante Bet feature costs a little more at the start of each spin but increases your chances of landing the bonus round by 50%.
Paytables & Winning Combinations
Gates of Olympus is a 6-reel, 5-row slot machine. Through the pays anywhere principle, winning combos are formed by landing 8 or more symbols of the same type anywhere on the reels. This makes for really intriguing spins, especially because we also have a Tumble feature and multipliers that may be activated during the spins. 
The game's free spins feature is enabled when you land four or more scatter symbols. You will receive 15 free spins and a total multiplier during this feature. There is a possibility to win up to 5000X your bet. Knock on the gates of Olympus and revel in Zeus' elevated status among the gods.

We have arrived at the gates of Olympus, where Zeus possesses a substantial quantity of wealth, in this position. The features of the game enable us to participate in a maximum victory of up to 5000X the stake. Tumble, multipliers, and free spins are examples of these features.

All of the symbols that were a part of the winning combinations will thereafter vanish from the reels. The vacant spaces are then filled with new symbols. The great thing about this feature is that it never has a cap and keeps rolling as long as new winning combinations are made.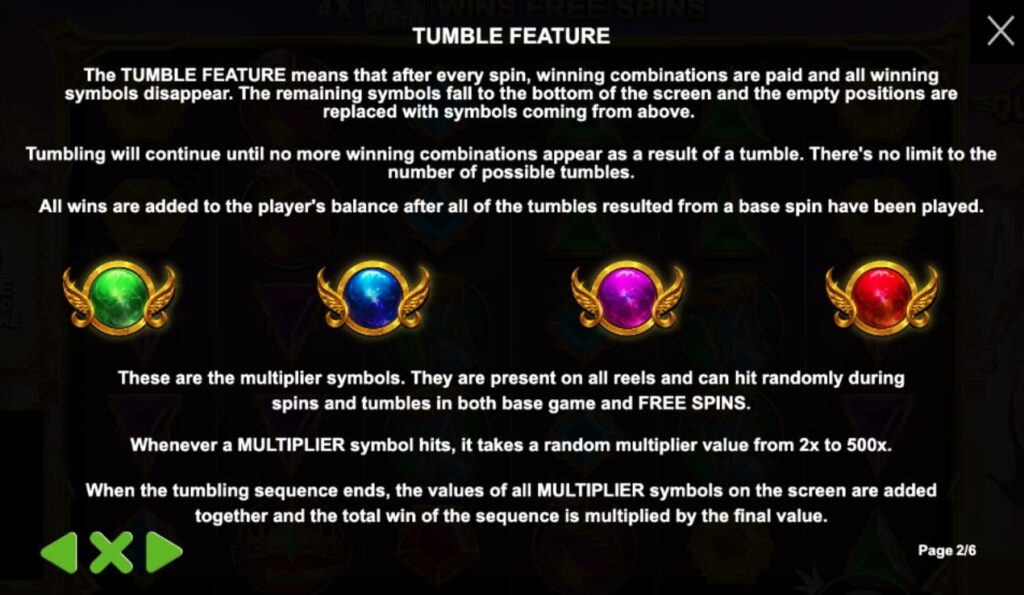 RTP & Volatility
Every slot player understands that RTP is an important aspect of every slot game. The RTP for the Gates of Olympus slot is set at 96.50%, which is adequate by our standards. Furthermore, the provider lists the slot as a highly volatile slot, which is ideal for more experienced players.
The terms volatility and variance are interchangeable: low variance means more low wins, while high volatility means fewer wins but larger payouts when you do hit a winner. 

Players who prefer this type of slot game should look through our games library for more real-money online slots.
Tips & Hints
Due to the ongoing development of several pictures, operating a betting business for a longer period will undoubtedly yield the highest wins on multiple spins. 
It's feasible that using this betting strategy will result in significant payouts. 

Place modest value bets to securely implement these suggestions at all times.
---