Da Vinci Diamonds Slot Free Play & Review for Canada
8 min
|
Da Vinci Diamonds Slot Information
| | |
| --- | --- |
| ⚡️ Slot Name | Da Vinci Diamonds |
| ⚙️ Software Provider | IGT |
| 🤩 RTP | 94,94% |
| 🎡 Paylines | 20 |
| 🎰 Reels | 5 |
| 💰 Min Bet | $0.20 (CAD) |
| 💸 Max Bet | $200 (CAD) |
| 🔴 Themes | Jewels, Luxury / High Life |
---
Best Casinos to Play Da Vinci Diamonds For Real Money
Best Da Vinci Diamonds Bonuses
Da Vinci Diamonds Slot Review
Despite being a 2012 release, the Da Vinci Diamonds slot machine continues to be popular. Gonzo's Quest fans will recognize the "tumbling reels" feature, and there are also other chances to win and a respectable fixed jackpot. Read our thorough review of the game below to learn more about all of its features.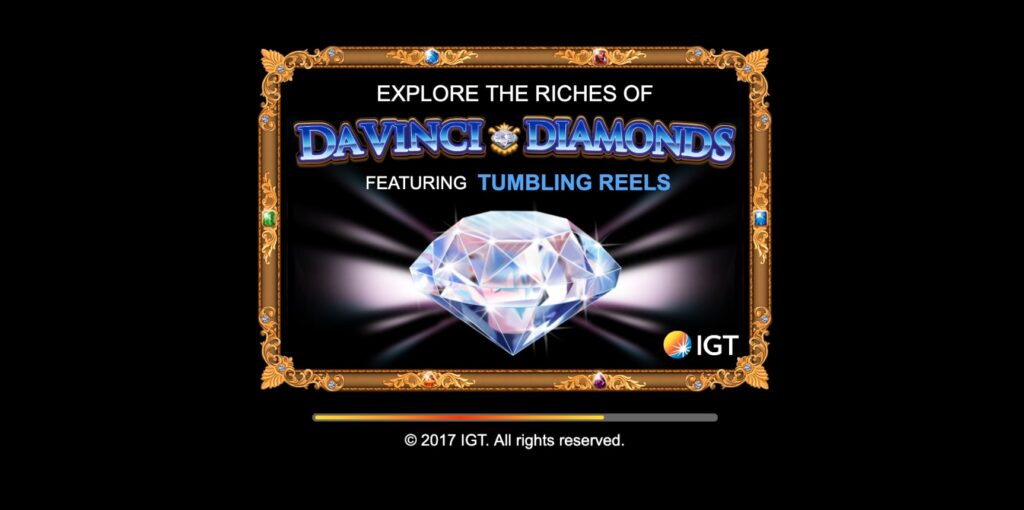 Theme, Graphics & Sounds
The main selling factor of Da Vinci Diamonds may be the plot. It is simple to recognize since it has become famous over time. More miniature reproductions of original Leonardo Da Vinci works of art are on a show by the developer. To further emphasize the art motif, the screen features a golden frame with a dark background.
When compared to newer online slots, the visuals are undeniably archaic. The pictures are clear, though, and they don't look that horrible. The classic works of art depicted on the rotating reels deserve some praise. The animations themselves are really basic and monotonous.
Additionally, the sound effects have a vintage slot machine feel to them. We liked to turn them down after a few rounds because they became rather loud after winning spins. The 5 reels here will please players wanting that traditional gameplay.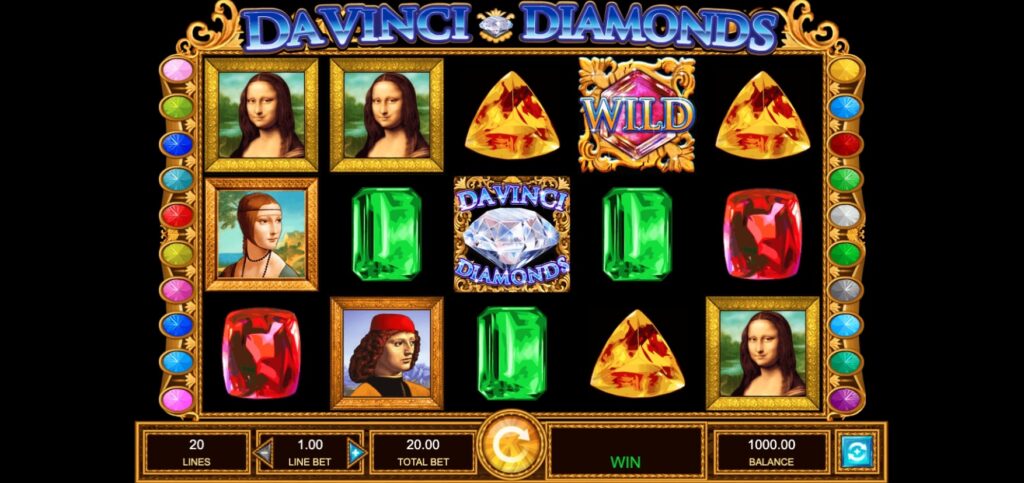 How to Play
The most important factor while playing at online casinos is strategy. A player can learn the techniques to manipulate wins to their advantage by critically analyzing a game before playing. Here are some suggestions to aid with a player's strategy:
Play the free demo game if it is available to familiarize yourself with it.
Before starting, critically assess the features to ensure that you know everything.
Utilize the game's bonus features wisely since they will boost your winnings in a variety of ways.
Keep an eye out for any bonuses, promotions, or rewards the casino slot machine may offer.
Da Vinci Diamond Slots may be played for entertainment purposes, but those who wish to play for real money must use their best judgment.
Bonus Features
Not exactly a work of art, but certainly not bad!
There's no denying that the Da Vinci Diamonds slot machine is beginning to show its age – the flat black backdrop and restricted animations don't look fantastic, even though the symbols themselves are very lovely.
Along with varied diamonds and rubies, renowned Da Vinci artworks such as the Mona Lisa, Portrait of a Musician, and Lady with an Ermine may be expected. Who said playing the slots couldn't be an educational experience?!
To appreciate this 5-reel slot, you don't have to be an art enthusiast.
The Da Vinci Diamonds slot's intriguing take on the standard slot concept makes it worthwhile to try only for that reason. Wins explode and dissipate, allowing the symbols above to take their place in what amounts to a free re-spin, making fans of Bejeweled and Candy Crush feel right at home.
The jackpot at Da Vinci Diamonds is stunning.
Online gambling has altered as a result of progressive jackpots and "millionaire makers," but the enormous benefits come at a price: fewer wins and a lower RTP%.
Games like Da Vinci Diamonds are a much safer choice in this regard. With its tumbling reels and sizable fixed Da Vinci Diamonds jackpot, this slot machine provides enough opportunities to win a lot of money without taking a significant risk.
With a close to 95% RTP, it is also not overly volatile, and it is uncommon to go more than a few spins without experiencing a win of some kind. A quarter of a million dollars is still a tonne of money, even though this jackpot may not be the largest one ever!
A difficult-to-accomplish yet always delightful bonus round
It might take some getting accustomed to Da Vinci Diamonds, but once you do, you're in for a treat. Every time you land between 3 and 5 Bonus symbols, you have the chance to earn more free spins (up to 300!). We wouldn't blame someone for grabbing the money and leaving after a bonus round if you're seeking game-playing advice.
To be sure, this game is a gem in the rough.
The bottom line is that, except for the fact that the bonus round seems very challenging to initiate, it's fairly tough to find anything unfavorable to say in a Da Vinci Diamonds online slot review.
Thanks to Gonzo's Quest and Birds, its tumbling reel mechanics may no longer be novel. However, it's still intriguing to learn about the feature's modest origins. This one is worth trying out because of its solid jackpot, low RTP%, and attractive visuals.
Leonardo can take the bus, rest at home, or hang around at the pub.
The Da Vinci Diamonds online slot is a really good choice for a game to play while you're on the move. It has reasonably straightforward visuals and a clean playing area with no gambling function or anything like that. If you can locate it on a mobile-friendly gaming website or app, it's a terrific option.
Game Symbols
A red, green, and yellow gemstone serve as the game's lesser-value symbol, while the diamond logo serves as the game's highest-value symbol. Mona Lisa has been grouped alongside two other less well-known Da Vinci pictures that all have a medium value in this game, even though we would expect it to be worth much more in the real world. The Da Vinci Diamonds slot machine's paytable is as follows:
Mona Lisa pays 50 times for 5 on a payline.
Logo of Da Vinci Diamonds – Pays 250x for 5 on a payline
Lady with an Ermine Portrait – 15x for 5 on a payline
Portrait of a Musician pays 25 times for 5 on a payline.
3 distinct coloured gemstones – 5x to 4x for 5 on a payline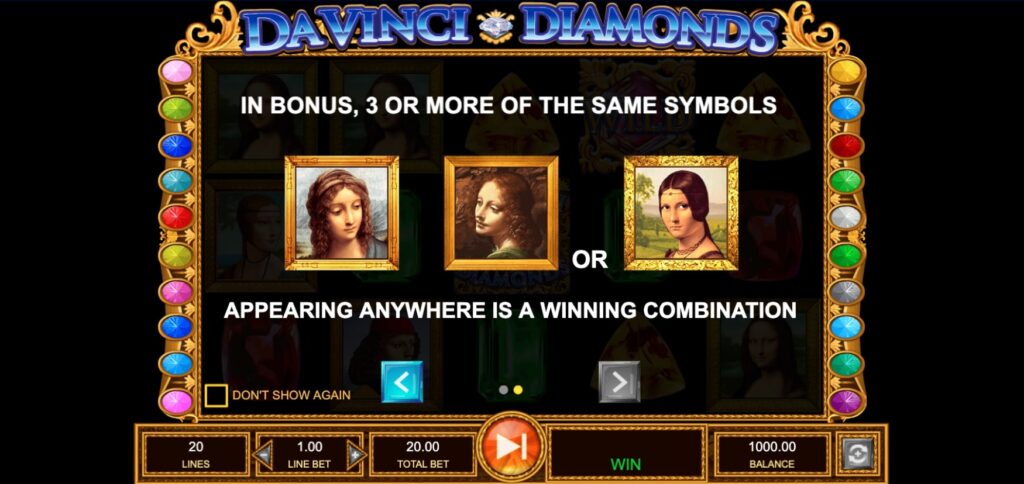 Bonus Rounds & Free Spins
Da Vinci Diamonds has tumbling reels as a bonus feature, however, it lacks a fixed bonus round. More than 15 years ago, this was the first slot machine to provide the function.
In essence, when symbols make winning combinations, they pay out the prize and then vanish. New combinations may be made by adding additional symbols, which drop from above and into the open spaces. Up until there are no more winning forms visible on the screen, the procedure is repeated.
The Da Vinci Diamonds free spins serve as a representation of the primary bonus mode. When three bonus symbols appear on the same payline, it is activated. Six more spins using the bonus paytable are given to the player. Additional bonus symbols that are also scattered are accessible throughout the free spins, increasing the number of rounds available.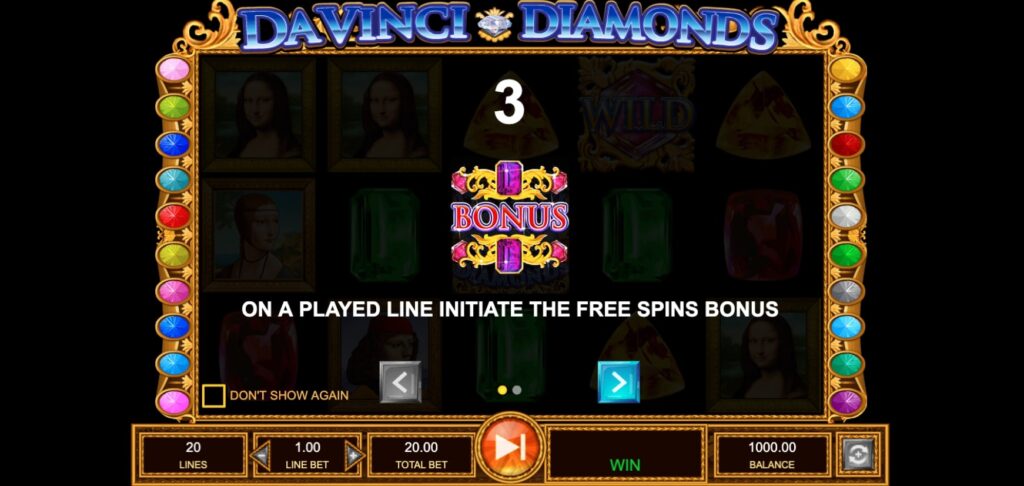 Paytables & Winning Combinations
As we reviewed the Da Vinci Diamonds slot machine, we came across several intriguing features. The first is that there are more winnings because there aren't as many symbols in the game as there are in other slots. Additionally, when you activate the Da Vinci Diamonds free spins feature, the symbols change.
The wild symbols in the game may only replace other icons; they cannot make their combos. The rewards for winning combinations depending on the line bet during the basic game are displayed in the following table:
The screen in Da Vinci Diamonds changes slightly when the free spins are initiated, and the following paytable is then accessible. While the other symbols merely increase the line bet, the three scatter symbols pay by multiplying the total stake.
The Da Vinci Diamonds IGT slot machine has 20 pay lines. These stand for the configurations in which matching symbols can result in lucrative combos. Each combination must begin on the leftmost reel, move to neighbor slots on the same payline, and end there. As seen above, winning combinations with more symbols produce larger payouts.
Wins from Da Vinci scatter symbols can occur without their appearing on paylines. These unique symbols may combine with any other sign on the screen to produce combinations.
RTP & Volatility
Da Vinci Diamonds' RTP of 94.94% is around the average for current online slots. Although it doesn't wow with a high payout rate, it doesn't let you down either once you've played for a while. Another well-known IGT slot machine, Cleopatra, has a slightly higher RTP of 95.02%. Both, however, lag well below contemporary slots like 777 Deluxe.
For casual gamers, low-to-medium volatility is advantageous. It implies that, despite their modest size, rewards may be expected relatively regularly. The game still has a lot of punch with jackpots up to 5,000x, which is fascinating.
How to Win
Slots are simple to understand when it comes to profitability. Your chance of winning and, more significantly, how much money you put in are both factors. The maximum payout while spinning the historical symbols is five Mona Lisas, which can result in a payout of up to one thousand times your stake.
You can break even with the lowest, which has three Ladies. Lay diamonds and various pictures in between, which can increase your payout by 10 to 100 times. Not bad for a slot with 20 pay lines.
The price of Da Vinci Diamonds is not the lowest of all the slots. One coin per pay line, worth £1, is the minimum wage. This practically implies that the minimum you may spend for a spin is £20 because the slot machine has 20 pay lines.
However, it does provide significant payouts if you're willing to put money into it; wins occur regularly, and accessing the free spins feature is easier than in other slots of a similar nature. Once it's turned on, you might wind up doubling your wager by at least 50.
How to Play for Free
The first piece of advice for playing Da Vinci Diamonds is to use free slots to get a feel for the game's mechanics and features. Additionally, it is a benefit that is only accessible online because few brick-and-mortar casinos provide players with this convenience.
You may test out the theme, features, and prizes with the greatest free slot machines at the Da Vinci Diamonds casino. You may play the game for enjoyment or to practice various tactics. The high hit rate and minimal volatility make it a solid option for betting systems. You may test out different strategies using the free version to determine which ones are most effective.
How to Play for Real Money
There are a few easy steps to complete before spinning the first reels in Da Vinci Diamonds if you have chosen to play for real money.
Create an account on the website
Select a reputable, scam-free Da Vinci Diamonds online casino
Select the most practical deposit and withdrawal options
Start playing the slots while keeping an eye on your budget.
Make your initial deposit and review the terms and conditions of your bonus.
We want to emphasize how crucial it is to play the game online at first while keeping your money in mind. By setting a budget restriction, you can maintain control and resist the need to chase after losses. Also, be sure you comprehend the stake amount for each spin when playing Da Vinci Diamonds for real money.
How to Play from Mobile
The premise and features of the Da Vinci Diamonds mobile slot remain the same. To make the game more playable on touchscreens, the dashboard is altered. As a result, both in landscape and portrait modes, the layout is incredibly user-friendly.
Since players don't need to download any specific programs, compatibility is also fantastic. The game has been HTML5-optimized to run well on all of the popular iOS and Android browsers. With Da Vinci Diamonds slots free download, you can quickly load the game and begin playing.
Overall, we like the Da Vinci Diamonds slot on mobile devices over the desktop version. On the smaller screen, the black backdrop looks much better and everything fits. Wilds, scatters, tumbling reels, and free spins are still advantageous to you. On your phone, you can even play Da Vinci Diamonds whenever you want for free.
Tips & Hints
Since the Da Vinci Diamonds slot, like all other slots, is controlled by a random number generator, there is no real way to cheat at it (RNG). That implies that each spin's result is chosen at random. However, users may enhance their gaming experience by first trying out the game in free-play mode. For optimum outcomes, we advise adopting a straightforward method, like the one we've included below.
Keep expenses within your means and take brief breaks around every 50 spins.
Plan to spend 200 spins total.
When you run out of spins, stop playing.
Contrast that with the predicted RTP.
You can now determine your exact RTP.
Choose whether or not to play for real money.
---